I'm so excited that it's $100 Room Challenge time again! This time I'm taking the challenge to the streets, so to speak, with a makeover for my camper.
I've participated in several other $100 Room Challenges, and it's one of my favorite subjects on the blog. I love the challenge of making over a whole room in four weeks, for $100. This time, I'm going all in with our family camper trailer. It's one room that does every job in the house, so this makeover will be the ultimate challenge!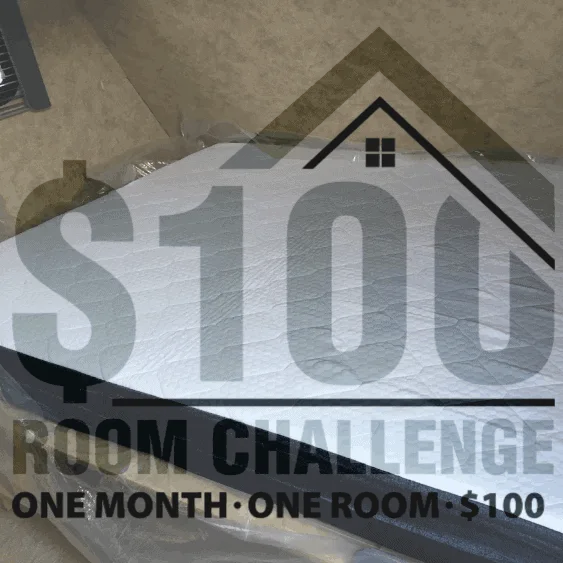 This post contains affiliate links. If you make a purchase, I may receive a small commission at no additional cost to you.
Before we get too far into my plans for this challenge, let's recap, shall we? The $100 Room Challenge all started with Erin of Lemons, Lavender and Laundry. We're all on a budget and a time crunch these days, so her idea of keeping a project within boundaries is a brilliant solution to the overwhelming task of redoing a room. You can see more about the whole idea here. Thanks Erin, for being our fearlessly creative leader!
My $100 Room Challenge projects have become some of my favorite in my whole house because I actually have a deadline and things get done! Here are the rooms I've remade before:
Talk about productive – all you need if you're having trouble finishing projects in your house is to sign up for this challenge!
How far this Camper has Come
I've been wanting to update a few things in our camper since we bought it (used) a few years ago, but that's been at the bottom of my priority list because the only time I think about it is when we're actually out camping, which isn't a great time to start a DIY project.
On our last camping trip I finally got fed up with our tiny banquette bed and as soon as we got home I started ripping out plywood walls.
We soon learned that DIY projects in a 19 foot camper are real different than DIY projects in the house. First of all, there's the space issue. Renovating an approximately 150 square foot tiny house is an exercise in resourcefulness and patience.
Then there's the construction methods. To keep the vehicle weight low, everything is made of plywood, particle board and plastic. We had to remember to factor weight into all our remodeling decisions.
And finally there's the climate control. Turns out, tearing apart a camper in 95 degree heat is a bit of a sweaty endeavor.
But we powered through, all for the sake of a good night's sleep the next time we go camping. We replaced our dinette seats with a full size foam mattress and I'm so excited to sleep on a real bed that's bigger than 47″ wide for me and my hubby!
By the way, this isn't the first time I've made over a camper. You can see our first Apache camper here. And if you're getting into camping, be sure to check out my camping organizing hacks!
Once the bed had been improved, I decided that it was time to tackle some of the cosmetic changes, and what better way to do that than with a $100 Room Challenge?
Camper Makeover Plans
It's all about the budget with this camper, and I've got some fun ideas for how to update its style without breaking the bank.
I plan to:
How am I going to do all this for under $100 in the next four weeks? I'm not quite sure yet, but I've got a few thrifty ideas up my sleeve! Be sure to follow along so you don't miss a post:
Week 1 (You're here) ~ Week 2 ~ Week 3 ~ Week 4 (Reveal)
Also, the best part about this challenge is seeing what other bloggers are working on in their homes. Check out all the big plans:
I'll see you next week! In the meantime, send lemonade and cool weather!