Tween Girl's Bedroom Makeover
It's reveal week for the $100 Room Challenge! Reveal week is always my favorite, partly because I love to see a fun project come together, but also partly because of the enormous sense of relief I feel after the final push to get everything done. I can't wait to show you my growing girl's bedroom makeover!
Before we get into the good stuff, I want to say a big Thank You to Erin of Lemons, Lavender, and Laundry for hosting this challenge, and giving me the deadline I needed so I could finally get this room done!
~This post contains affiliate links. If you make a purchase, I'll receive a small commission. Thanks for supporting The Palette Muse!~
When we set out to give my daughter's room a little makeover, I had no idea what a difference we could make with only a few weeks and $100. (You'd think I'd be used to transformations like this by now, but I'm always surprised by the end result.) She wanted a more grown up room, but I just want to keep her my little girl forever, so I was concerned about how to give her a space that would fit her personality, feel fresh and fun to her, and satisfy this mama's heart who's already watching her baby grow up too fast. That's a lot to ask from one room!
Fortunately this little one has loads of style, so she had some great ideas and we were able to do pretty much everything she wanted.
Let's do some before and after shots, shall we? Then I'll get into details of how we pulled this off.
Before: boring wall color, icky fan, and almost no storage.
After: We moved furniture, freshened up the fan and curtains, and found new bedding and accent pieces.
Before: Girly stuff everywhere!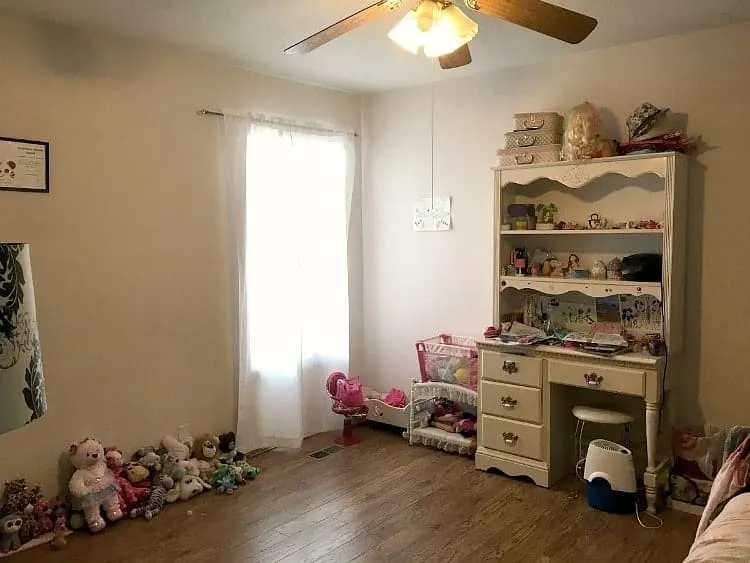 After: We grabbed IKEA Hyllis bookshelves out of my office and repurpused them for her stuffed animal display. (Since we already had them, they didn't affect our budget, but even if you had to buy them, they're only $15 a piece and you can actually order them on Amazon!)
Before: Oh the clutter!
After: Moving the bed to the opposite wall cleared up this space beautifully. We removed the hutch from her desk and opened up the space with a fun bulletin board that was handed down from a friend.
So let's break it down. Here's everything that went into this $100 Room Challenge:
Ceiling Fan Makeover – $9
You can see in this post how to do a fan makeover without removing the fan from the ceiling, or doing any wiring.
Curtain Makeover – $13
Here's how I dip-dyed the existing curtains for a cool ombre effect.
Painted the Bed – Free
I was going to spray paint the bed but had some leftover paint and decided to just use that. Next time, I would spring for a couple of cans of spray paint. It's hard to get a good clean finish on metal with a brush!
New Accessories – Free
Well I guess the accessories aren't actually new, just new to this room. I shopped my house for the window frame mirror, the bedside table and the gray and white body pillow cover. And the adorable bulletin board was a hand-me-down from a friend. Score!
New Bedding – $21
Although I already had the white comforter, I did splurge on the chevron pillows and the gold mermaid pillow. (Mermaid is the description of the sequins on this pillow. They are gold on one side and white on the other, so you can flip them one way or the other by running your hand over them. We can't keep our hands off this pillow!)
Every room needs an awesome accent piece and this mermaid pillow was just what we needed. Even so, all three pillows cost just $21. They are actually pillow covers available at Hobby Lobby and I put them over some old throw pillows I'd been storing for just such an occasion. Next time you need new pillows, try pillow covers instead!
Wall Treatment – $39
I'll give you more details about this fun polka dot wall treatment below.
Total Bedroom Makeover Cost
So that brings us to a total of $82. Under budget! That almost never happens – you can ask my husband. I wonder if that means I can add the extra $18 onto my next room challenge?
How to Make Your Own Polka Dot Wall Treatment
This polka dot wall treatment was really the foundation of this room transformation. It's super easy and pretty cheap, even if you don't have a cutting machine.
First, we painted all the walls a soothing muted aqua color. This is Valspar's "Stillness" which is pretty hilarious if you know my daughter, who never stops moving. Maybe I was hoping a calming color would help her settle down at night.
Then, I designed these 2″ circles, using my Silhouette Cameo software, and cut them out of metallic gold self-adhesive vinyl. If you don't have a cutting machine, you could get a hole punch like this one, and simply punch 2″ circles out of your vinyl. (If you're thinking of getting a cutting machine, let me just say I love my Cameo! I thought it was a splurge when I bought it, but I can't believe all the ways I've used it.)
Finally, we had a blast sticking the vinyl dots to the wall.
We tried a few different ideas, but liked this corner cascading pattern the best. Plus, it was a lot easier than measuring and lining up the dots in an orderly pattern!
Here are a few more pictures of this growing girl's bedroom makeover…
The only thing better than a room reveal is several room reveals, so go check out all the other bloggers in this challenge!