How we remodeled our vintage Apache camper, saving all the good, and updating all the bad. All for less than the cost of a single vacation!
Last year at about this time in the spring, I started getting the itch to redo something bigger than just a piece of furniture or a room. I set my sights on a vintage camper.
I wanted to do a Shasta or Airstream, but soon realized that those are in short supply and high demand. If you've ever studied economics, or simply been to a garage sale, you know that low supply + high demand = high prices (and vice versa).
But just when I began to despair of unfulfilled inspiration, we found this little Apache Mesa from 1976. It's a hard-sided pop up, which fit most of our needs, and it just needed a good cosmetic overhaul on the inside. The inspiration was back on!
Apache Camper Restoration
I wanted to keep all the character of this sweet little vintage Apache, but update all the gross parts into goodness. Here's how I did it.
This post contains affiliate links. If you make a purchase, I may receive a small commission at no additional cost to you.
New Curtains & Bedding
Everything in this camper was functional, but a little dilapidated. Here's a reminder of where we started.
First I changed out the curtains, which was a super-satisfying makeover project in itself. You can see that post here, and more of the original before pictures here.
The bright curtains brought much-needed sunlight and color to this little space.
Then I had to decide what to do about the beds. Although the upholstery was, well, let's just call it "vintage," the cushions underneath were in perfect, clean, condition.
Rather than spending a lot of money reupholstering the beds, I just covered each of them with a large mover's blanket. They're cheap and durable, and I got mine at Harbor Freight for a whopping $4 each.
Floor Covering Upgrade
The yellow and brown linoleum was in great shape (just ugly!) so I didn't want to get into a huge project of tearing it out, which would mean gutting the whole camper.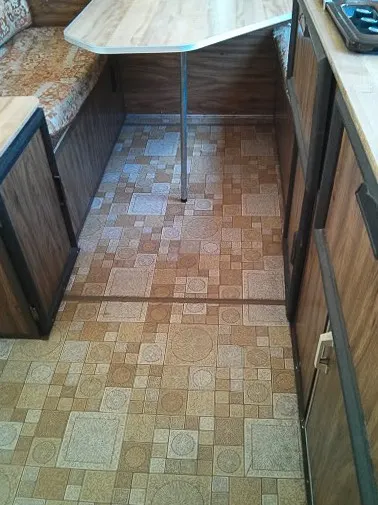 After researching a few options, I decided to use an outdoor carpet to cover the floor. They're super cheap (under $20 at Home Depot) and easy to to cut with just scissors or a utility knife..
For a template, I laid down several newspapers, taped them together, and then cut the edges into the outline of the floor. Then I laid the giant newspaper template on the carpet, traced it with chalk, and cut out the shape I needed.
When I put it in the camper, I had to trim some of the edges just a bit, but now it's the perfect fit. And it's removable and easy to clean!
Seat Cushion Makeover
Next on my list was to re-upholster the dinette cushions and do something about the ugly orange band of plastic that ran around the top of the camper. However, those tasks got swallowed up by a summer full of fun and camping.
My little project turned into our new family pastime, and I couldn't be happier about that. Before closing up the camper for the winter, I found time to re-upholster the cushions.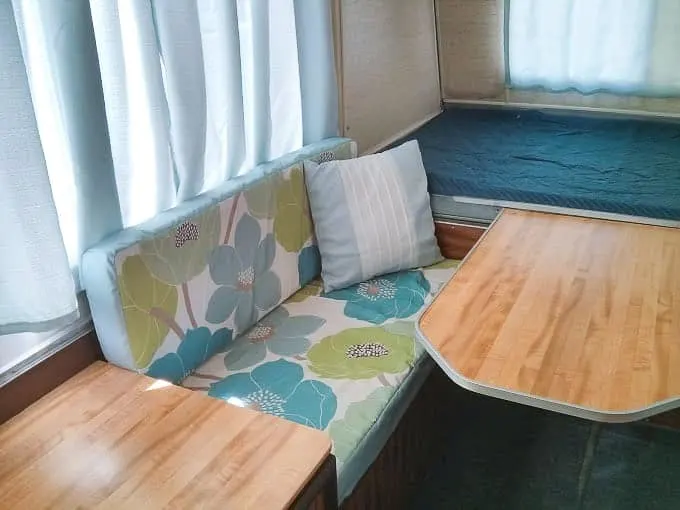 To cover the cushions, I used polyester fabric shower curtains. They're stain resistant, washable, and very strong. After watching the way my kids climbed all over them with grubby feet and marshmallow-y hands, I knew washability would be important!
Bonus: I was able to engineer the design so that the holes at the top of the shower curtain (for the curtain rings) became button holes, and I made the covers removable.
Seat Cushion Cover Un-tutorial
I wish I had thought to write a more detailed description of how I made these removable seat covers. I was just in such a hurry to get them done!
Basically, I used the foam cushions to create my own pattern. I wrapped the curtain around the cushion, sewed down one side, and sewed a flap on one end, using the button holes on the shower curtain as the edge.
Then I sewed buttons on the bottom piece of fabric to match the button holes. Now I can unbutton the flap and slip the covers off for washing.
A Clever Solution to a Design Dilemma
Finally, it came time to winterize the camper, and it bothered me that I hadn't done anything yet about that orange plastic border around the top of the camper interior! Sometimes even I have to admit that I just can't do it all, so we packed her up for the winter and I had to get over it.
But last weekend the weather warmed up enough to open her up again, and I was ready with the answer to the orange plastic. Rather than try to rip it out, of which I had no idea what the repercussions would be, I realized I could cover it with shelf paper.
I found this adorable blue trellis pattern shelf paper at Marshalls, and knew it would be perfect for the job. I also found several similar fun colors and patterns of adhesive shelf paper online.
Much like wallpapering a wall in a house, I decided to apply the paper in small sections. I knew that if I cut off a 4 inch by 8 foot long section of adhesive paper, I was just going to end up in a tangled mess.
I mean, I've never even been able to use a foot of duct tape without it getting stuck to itself, and me, in several places!
Here's the process (similar to applying removable wallpaper):
1. Clean the surface well. I just used a microfiber cloth and water.
2. Measure and cut one section of paper. It doesn't need to be perfect, but it does need to be at least as big as the surface you're sticking it to. (Use the grid on the back to help you get a straight line.)
3. Before removing the backing, hold it up to make sure it looks right.
4. Remove the protective backing.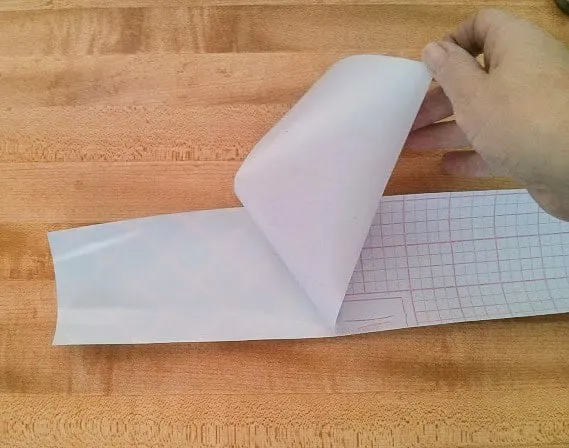 5. Carefully line up the patterns, overlapping where needed.
6. Gently press the paper onto the plastic, and make sure the edges remain straight and even.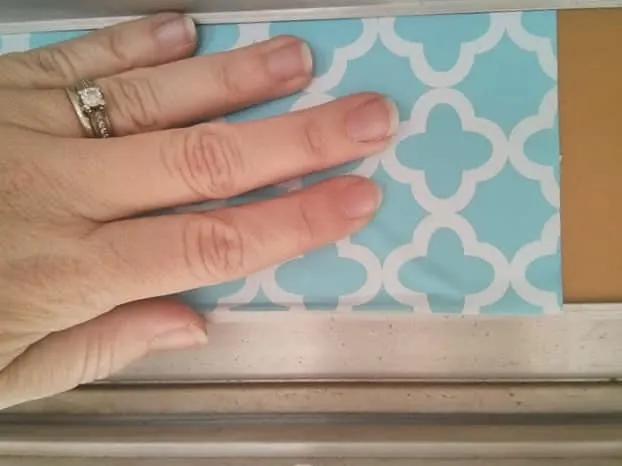 7. If you get off-course, you can carefully pull up the paper and start again.
8. Smooth the paper out, working from the inside to the outside. Press the paper into the edges for a clean line.
9. Cut the edges off with a sharp utility knife.
10. Repeat until your arms want to fall off from holding them over your head.
Apache Camper Makeover Reveal
Finally, she's finished. I must say, the end result is quite satisfying. You don't need to have a pretty space to go camping in, but for me, it just made the whole thing more fun.
Perhaps some day I'll work up to a bigger remodel on an old Shasta or something, but this one has been a great learning experience and a fun challenge.
Unfortunately, we've been bitten by the camping bug now, and have decided to upgrade to a bigger camper that doesn't pop up. So, my sweet little old Apache is for sale. If you like her, feel free to make me an offer sold!
Update: After we sold the Apache, we bought a new (used) camper, which I also completely made over. And I did it for $100! Here's where to get all the info on our new camper transformation.