For this year's $100 Room Challenge, I'm giving my camper a much-needed update. I believe home should feel like home, wherever you park it!
It's week 2 of the challenge, and I'm knee deep in about three different kinds of paint. I've started painting the cabinets with chalk paint, the door and trim with latex paint, and the countertops with whatever kind of paint smells like nail polish. Good thing there are plenty of windows to open!
This post contains affiliate links. If you make a purchase, I may receive a small commission at no additional cost to you.
We're in the remodeling phase known as "it has to get worse before it gets better." Also known as "what was I thinking?" If you've ever reached this stage of a project, just know you are not alone. This is the time when I typically start to question every design decision I've ever made. But there's no turning back now, so on we go!
Camper Update
Here's the update on all the projects going on in this little camper. But before you dig in, check out where we started last week.
Cabinet Painting
Y'all know I love me a good cabinet painting project! I've done three in my house, and I feel like I've got a pretty good system down. (You can read more about that in my post on The Best Way to Paint Kitchen Cabinets or skip right to my new ebook Cabinet Painting 101!)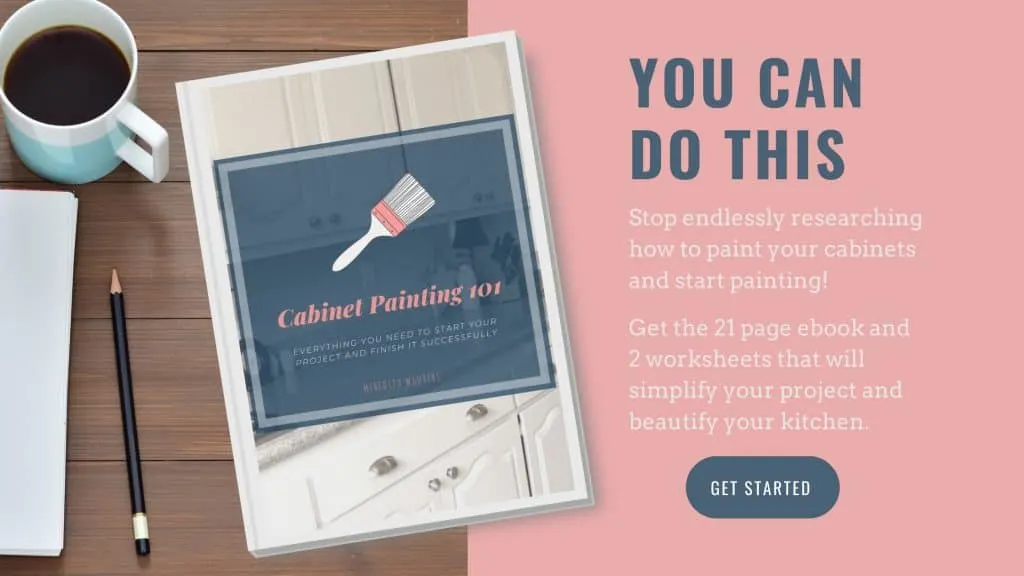 But this time I've been extra excited to take on this project because it's going to answer a question I get asked all the time, by readers of my cabinet painting post.
Can you use this method to paint laminate cabinets or furniture?

-All my readers ever
The answer, my friends, is YES. (With a tiny modification.) Here's how it works:
In my kitchen cabinet painting post, I went over the whole method I used, with the key ingredient being DecoArt's Satin Enamels paint. This paint is specially formulated for wood furniture, and it requires no sanding or prepping. Score. (I'll include the printable how-to for that method at the end of this post in case you need a handy guide.)
Then I got a flood of questions about whether Satin Enamels could also be used on laminate cabinets. So I reached out to DecoArt, and they recommended using the Satin Enamels over a coat of Chalky Finish Paint.
(If you've ever used chalk paint, you'll know the glory of it is it sticks to anything.)
So the plan is to replace the primer/sealer from the original method with the Chalky Finish paint. So far I've been impressed again at how well the Chalky Finish adheres to the laminate.
I wanted a light gray for the cabinets, so I mixed one jar of "Everlasting" Chalky Finish with 3 tablespoons of "Smoke Gray" Satin Enamels. I think I'll need about 3 jars for the undercoat. Then I'll use the same ratio with the Satin Enamels "Pure White" for the top coat. That should only require 2 jars for this space.
With chalk paint, you always need a top coat or wax of some kind, so this method uses the super durable Satin Enamels for the finish coat. I love its satin sheen, and how well it stands up to wear and tear. I've had the Satin Enamels in my kitchen for a couple of years now and my cabinets still look brand new.
Update: I've recently had many comments about Satin Enamels not being available for purchase. So I've written a completely updated post on painting cabinets, so be sure to check it out first if you're planning a project like this.
Countertop Painting
For the countertops, that started out a splotchy khaki like everything else in this camper, I decided to try Rustoleum's countertop paint in "Putty." It brushes or rolls on and requires very little prep or finishing. That's my kind of project! Later I'll be doing a tutorial on how to apply it, but for now I can sum up by saying this: it's easy, but stinky!
Trim Painting
I realized that I should paint the door to the bathroom white, just like I would do in my own house. I think that will contrast nicely with the gray cabinets that are everywhere throughout the camper. And since I have trim paint (Valspar "Swiss Coffee") from all my house projects, that part will be free!
Camper Update Costs
So far I've already spent about $82! I bought countertop paint for $22 and the cabinet paint would cost about $60. (Big shout out to DecoArt for providing my cabinet paint! Even though I didn't pay for it this time, I'm including it in the cost, since most people would. Thank you DecoArt!)
That's a huge chunk of my budget, but I still maintain that paint is the cheapest way to makeover a space. I've got some ideas for how to squeeze the rest of this makeover into my tiny remaining $18. That will be a challenge!
Next Week
Next week I'll be working on installing my new backsplash, and re-upholstering all the window coverings, as well as finishing up (hopefully!) all the painting projects.
Don't forget to check out all the updates in this Camper Makeover series:
Week 1 ~ Week 2 (You're here) ~ Week 3 ~ Week 4 (Reveal)
Your Turn
What do you think, should I paint the walls white? I was thinking the khaki color would look more subtle and neutral once I repainted all the orangey wood accents, but now I'm not so sure…
I'd love to hear your thoughts in the comments. And don't forget to check out how the other bloggers are doing on their projects!
The Best Way to Paint Kitchen Cabinets
Difficulty:
Medium - anyone can do it with a little time and effort
Painting kitchen cabinets can be overwhelming, but here's how to make it easier. You don't have to empty out your whole kitchen because no sanding is required!
Instructions
Clean cabinet doors with Krud Kutter or hot soapy water.
If needed, prime cabinet door fronts with Zinsser BIN Advanced Primer, using roller and paintbrush. Don't worry about the edges of the doors yet.
Paint cabinet door fronts with Satin Enamel, using roller and paintbrush.
Label cabinet doors and remove them from the frames of the cabinets.
Repeat steps 1-3 for the cabinet frames.
Paint the edges and insides of the cabinet doors.
Reattach doors.
Notes
It may seem counter-intuitive to leave the doors on the cabinets when painting them, but it gives you a perfect work space, and this paint will not drip or run so you don't need them to be horizontal while painting. They can dry in place, all while leaving your kitchen workable during the project.
Recommended Products
As an Amazon Associate and member of other affiliate programs, I earn from qualifying purchases.