This DIY gold hex stencil project is an easy, cheap and on-trend way to give your backsplash, or really any space, a quick makeover.
I had so much fun making over my camper for last month's $100 Room Challenge, but the time flew by so fast I'm just now getting around to writing a proper tutorial for this fun backsplash project.
This post contains affiliate links. If you make a purchase, I may receive a small commission at no additional cost to you.
Attempt #1: Removable Wallpaper
When I started my camper makeover, I had big plans to redo the kitchen backsplash area with removable wallpaper. I was inspired by this wallpaper project from Amy at Delineate Your Dwelling. But when I went to try it myself, it turned into a big ole' FAIL.
Her project was so cute and turned out so well. And her tutorial was really thorough and helpful, so don't let me talk you out of doing your own wallpapered backsplash. Just do as she does, not as I did.
I think I went wrong when I bought super cheap wallpaper instead of the nice stuff like she used. I loved the pattern of mine, but it turned out to be kind of stretchy and difficult to install. Plus, it was so thin, you could see the lines where each strip overlapped the next one.
Not to mention, I didn't buy enough even though I measured. I forgot to allow for "the return." (That's the fancy designer word for the amount you lose when overlapping paper to line up the patterns.)
Sadly, I was out of budget (since I only had $100 for the whole camper) and I had to get creative. Happily, that's where the problem-solving started!
What's better than Hexagons? GOLD Hexagons!
I decided that, to stay on budget, I would need to get creative and use what I already owned. Namely, some scraps of wallpaper with a pattern I liked, some posterboard, and a Sharpie pen.
When I was trying to hang the wallpaper, I realized I didn't really love the gray on white and wished I had looked for a gold pattern instead. At the time, I wrote it off, but now that I was only using the wallpaper as a stencil pattern, I realized I could do the hex tiles in gold. Win-win!
Long story short, I ended up with a backsplash that I absolutely LOVE, with only a little bit more work and no extra expense. Here's how I did it:
Make Your Own Gold Hexagon Stenciled Backsplash
First you'll need either a stencil or the makings of a stencil. (You can save yourself a few steps and some time by using a stencil like this one. It's a little different, but also very cool.)
You'll also need a prepared wall surface for stenciling. After (easily) removing the failed wallpaper experiment, I painted my backsplash area with white interior semi-gloss paint and let it dry overnight.
Tip: A smooth surface is best for stenciling. If you are trying to stencil on a textured wall, it will be hard to get an even edge and straight lines.
How to Make a Stencil
To make a stencil, all you need is some stiff paper like posterboard, a knife, and little forethought about how the pieces of your stencil will hold together. (When you start cutting out shapes, it's often too easy to cut off the parts that keep the edges of the stencil attached.)
First I cut a strip of wallpaper that contained two full lines (or repeats) of the hex pattern. I stuck the wallpaper to the posterboard and cut off the edges.
Then I used my x-acto knife and scissors to cut out the lines of the hex pattern. This required a little patience and a steady hand. (Each line required not just a slice in the paper, but a thin rectangular cut for the Sharpie to fit in.)
I made sure to leave the junctions of the lines uncut so they would hold the pattern together.
Using the Stencil to Make a Gold Hexagon Backsplash
Once the stencil was cut, it was on to the fun part. Well sort of. First I did some practice stenciling on my leftover posterboard. This helped me figure out how dark I wanted the lines to be and how the Sharpie worked with the stencil. It was so worth taking a few extra minutes to do this on paper before putting it on the wall!
I started stenciling by lining up my pattern along the bottom of one of the side walls of the backsplash. (If you don't have a level surface to start from, use a level to set your first stencil line, and check periodically throughout the project to make sure you're not wandering off to one side or the other.)
Then I used my gold Sharpie to fill in all the stencil cuts. Easy peasy.
Once I filled in all the stencil lines, I picked up the stencil and lined it up above the painted part, overlapping the matching edges of the existing hexagons. Then I filled in the blank spaces with Sharpie again. And again. And again.
Once I had covered all the backsplash area, I went back and filled in all the holes left by the junctions in the stencil. This took a little concentration since it was basically free-handing, but the empty spaces were small enough that I didn't have too much space to go wrong in.
What to do with Stencil Edges?
When you're stenciling anything, you inevitably will have edges where the stencil leaves spaces, usually in corners. I simply cut out one hexagon shape, and a half hex shape and used them as mini-stencils to go around and fill in the edges.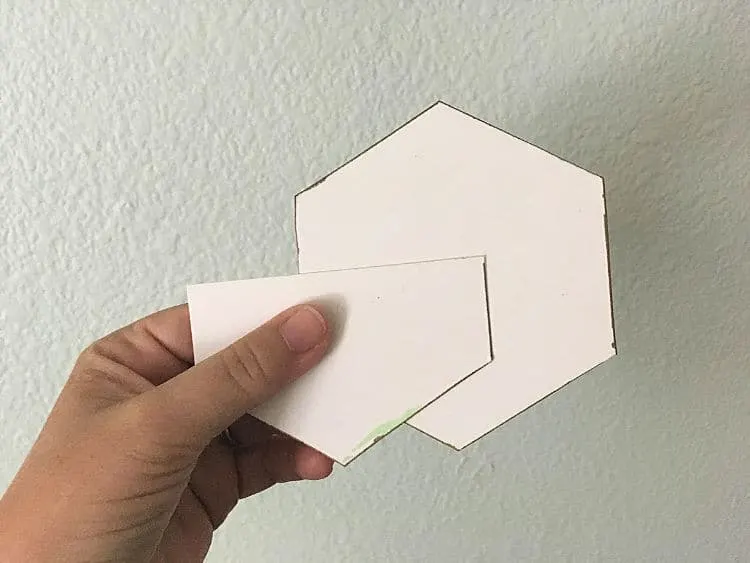 That's it! The great thing about the Sharpie method is there was no paint to dry between setting the stencil, so the project went by pretty quickly, and the space was usable as soon as I was done.
I love how this gold hex backsplash turned out! When the sun shines, the lines look bright metallic gold, and when it's dark they look gray. It's like a two-for-one deal!
I love the little pops of gold throughout this mostly white and gray space. And the hexagon pattern gives it a modern vibe, reminiscent of actual backsplash tiles. If you missed it, check out the full camper makeover before you go.
Happy stenciling my friends! And as always, let me know if you have questions along the way…
Create a Gold Hexagon Backsplash
Total Time:
1 hour
20 minutes
You don't need tiles to make a gold hexagon backsplash like this one that I created for my camper makeover. Here's how to make your own stenciled wall design.
Materials
Posterboard or thin cardboard
Instructions
First you'll need a clean flat surface on your wall. If needed, paint it with white Semi-gloss interior paint and allow to dry thoroughly.
Apply a strip of wallpaper that contains 2-3 rows of hexagons to your posterboard. Cut off the extra posterboard.
Using your Xacto knife, cut out the lines of the hexagons, leaving about 1/4 inch at each intersection, to hold the stencil together. (This is not as easy as cutting along the line. You'll need to cut on the outside edges of the line, to allow a space where the line was.)
Hold the stencil up to the wall along the bottom edge, where the wall meets the counter.
Run your gold Sharpie along all the lines in your stencil.
Reposition your stencil along the top of the row you just painted, overlapping one row of hexagons with the lines now on the wall.
Paint along all the stencil lines that are not duplicates.
Continue along the whole length and width of the backsplash area.
Go back and use your Sharpie to fill in the voids left by the stencil structure.
If needed, use your Sharpie to fill in any lines that look too light or shaky. I ended up going over the whole backsplash again to make the lines thicker and darker.
Notes
I found it helpful to also make a small single hexagon shape and a half-hexagon shape, using the method above. That way I could use the small pieces to get into smaller spaces and corners.
You could absolutely save yourself a little time making your stencil if you find a premade stencil that you like.
Recommended Products
As an Amazon Associate and member of other affiliate programs, I earn from qualifying purchases.