Is anyone else as shocked as I am that it's almost the end of the year? I mean, I know New Year's comes right after Christmas, but somehow this one snuck up on me anyway. As I'm getting ready to take The Palette Muse into 2016, I thought it would be fun to look back at what happened in 2015. When I did, I realized why I've been feeling kind of busy lately. Here's a quick rundown of some highlights from my 65 (!) posts this last year…
The year started with a few organizing projects, my favorite being this pantry makeover. What was once a sad and cluttered coat closet, now gets used every day as my kitchen pantry.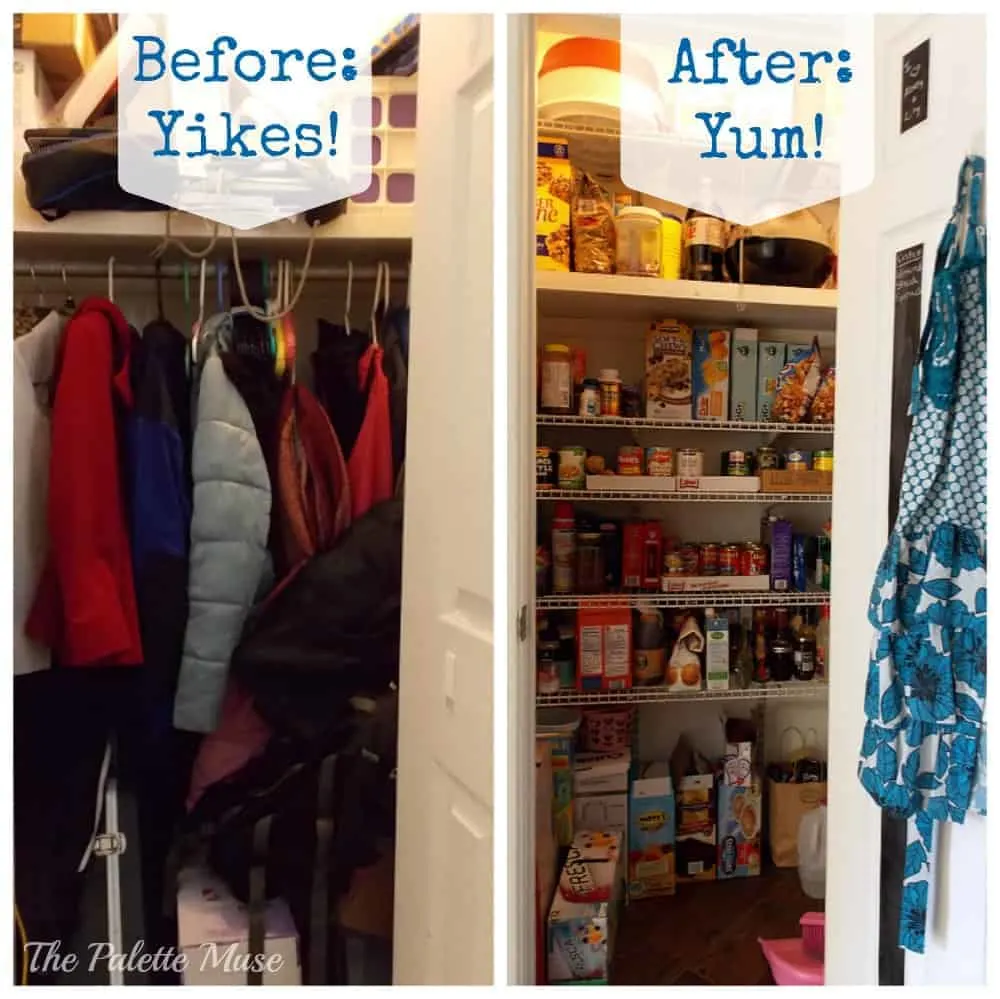 Then I made some friends (and some enemies!) with this post on how to make a better bunk bed tent. Who knew people had such strong opinions about bunk beds!
Along the way, we thought it would be fun to adopt a puppy, so we tried fostering one first, and learned some great tips on how to puppy-proof your house and yard.
Most of all, we learned we weren't quite ready to be puppy parents. Maybe someday…
I opened an Etsy shop at the end of 2014, so 2015 was all about learning how to run the shop and how to organize my crafting supplies and inventory.
Then, because I don't spend enough time on social media already, I jumped into Instagram, and now I'm obsessed. The biggest learning for me was how to use hashtags.
I learned to knit a little better with this fun shawl project.
And of course, I made over a few rooms for clients, like this master bath makeover that I'm still jealous about.
But my favorite thing to make over is always thrift store furniture like this sweet little chalk paint and drop cloth chair that I rescued.
A few holiday crafts are always fun, like these easy shimmery snowflake cards or etched glass candle holders.
Of course, The Palette Muse would not be the same without color palettes. I couldn't pick a favorite one of these, but this one was one of my readers' faves.
And finally, my most ambitious and scary project this year was to write a book. I haven't put the book together yet, but I've written most of the chapters through these posts on Surviving Creativity.
If you love being creative, but don't always know how to make it work for you, then hopefully this series will help!
When all is said and done, my own personal favorite posts are always the musings on family or parenthood, like this one on why I would make the world's worst superhero.
Whew! That's a lot of information for one year. Thanks for sticking with me!
Bonus: it was actually the very end of 2014 that I painted my kitchen cabinets, and learned a few valuable lessons along the way (like don't take on a major painting project in the middle of winter!), and I'll be back next week to give you a One-Year-Later update on how the paint is holding up.
Until then, Happy New Year, and may your 2016 be blessed and full of hope and creativity!