Just over a year ago when I published an in-depth post on how I painted my kitchen cabinets, the biggest question I heard from my readers was "how will it hold up?" It always bothered me that I didn't have a first-hand answer yet to that question, and I knew I'd need to do a follow-up someday. So today I'm happy to be back with the long-term results.
Would I do it the same way again? The short answer is: "YES!"
But since one word does not a blog post make, here are a few more details…
First of all, I can honestly say that (aside from the pile of dishes in the sink) my kitchen is in just as good shape today as it was when I first finished the project. I couldn't be happier with the results, even after a year which included lots of spaghetti spills, blender disasters, and general chaos in the kitchen.
Here's a quick reminder of how the kitchen looked before:
And now after: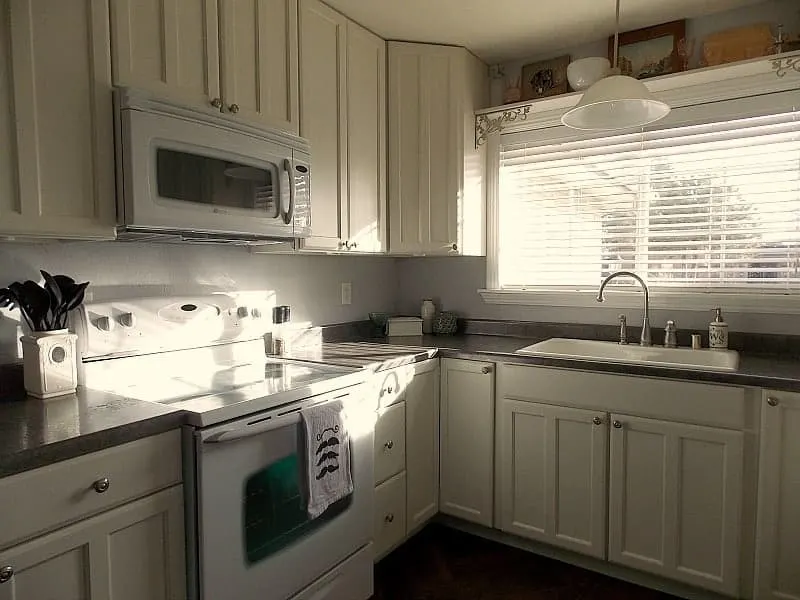 My three favorite things about having painted kitchen cabinets are:
They're bright and clean looking and really lighten up the room.
They're super-easy to clean with just a cloth.
Any small nicks can be easily re-covered with a quick dab of paint.
You can check out my original how-to guide to see the whole project from start to finish, as well as what products I used, but let me just say here that good paint is one of the keys to a long-lasting finish. I used Benjamin Moore Advance, and was so impressed with how easy it was to use and how nice the finish turned out. And now I'm just as impressed with how well it's held up to loads of wear and tear over the past year.
The other key to a durable finish is proper preparation. I know there are all sorts of ways to get around sanding and priming, but I'm a believer in both. After taking the time to do the whole process, I can say that the only spot that has needed touching up of the paint is on the corner of a cabinet door that I didn't sand properly. Bet you can't even see where the repair happened in this photo.
A fourth favorite that's worth mentioning here is the price. For about $160 I feel like I got a whole new kitchen. So if you're wondering if it's really worth it for you to DIY your own kitchen cabinets, I vote yes! I can't tell you it was quick or easy, but I've never regretted a single moment of the whole project, except maybe not having done it sooner.
For your own project, check out my complete Kitchen Cabinet Painting Guide, and 13 things I Learned along the way. Also, for more background information, check out this completely updated guide on how to paint kitchen cabinets.
In the meantime, here are three quick tips that, even if you take none of my other advice, will help make your cabinet painting project easier.
Label your cabinet doors using this raffle ticket system BEFORE you remove them.
After the first coat of primer or paint, use caulk to fill in any edges and gaps for a flawless finish.
Paint paneled doors from the lowest surface to the highest, and lay flat to dry, to prevent drips.
KITCHEN CABINET PAINTING SUPPLY LIST:
(Affiliate links included)
I wish you the best of luck with your own kitchen cabinets, and let me know if you have any questions!
P.S. I've had so many questions about cabinet painting, I decided to write a book! Check it out if you're tired of scrolling and googling, and still wondering how to get started on your project: