Answering all your burning questions about my painted kitchen cabinets, and how the finish has stood the test of time and heavy use.
There sure are a lot of ugly, outdated kitchen cabinets out there! How do I know? Ever since I wrote this post about how to paint your kitchen cabinets, I've heard from approximately 300 of you who are thinking of doing the same thing.
In fact, I've had so many questions over the past year about my painted kitchen cabinets, that I thought now would be a good time to answer them all together in one place, as well as let you know how the cabinets' paint job is holding up.
Fun FAQ's: Painted Kitchen Cabinets
~ This post contains affiliate links. If you make a purchase, I may receive a small commission at no additional cost to you. ~
If you haven't read the original post yet, definitely go back and read The Best Way to Paint Kitchen Cabinets first so you'll have the basic information. I won't repeat the process here, because that would make for a super-long and probably pretty redundant blog post.
Consider this the "further reading" assignment to go along with the essentials included in the first post.
Before we get to the questions, let me answer the big ones, which are "How are they holding up?" and "Would you do it this way again?"
How's the paint job holding up?
These painted cabinets are rock stars. I can't believe how well this finish has performed. It's been almost a year and a half, and they look brand new.
(To be fair, the cabinets themselves don't really look brand new since the style is pretty dated, but the finish looks clean and new, which gives the overall effect of a new kitchen.)
I've had to touch up a couple of dings, mostly on the doors under the sink, where my trash can lives. But it's been several months since I even had to do that. I think if I had it to do over again, an extra coat on the edges of those doors would have prevented that.
And there's one spot over my stove where the paint has bubbled and cracked a little bit. I'm pretty sure that comes from it being a high-grease-residue area. Had I thought about it, I would have hit that area extra hard with the Krud Kutter before painting.
I think I'll be able to easily fill and repaint that. Here it is at a more realistic viewing angle, so you can see what it looks like normally.
Would I do it again?
Absolutely. In fact, I'm about to give my mother-in-law's kitchen the same treatment. I'll be sure to share some photos from that makeover on Instagram.
I also used the same kind of paint on my bathroom cabinets in this post, with great results.
Thanks to the DecoArt Satin Enamels' special formula, this was a much easier process than the traditional way to sand, prime, paint, and seal your cabinets.
Be sure to check my original post for more info about the method and the product, because it's the key to this whole process.
Update: I've written a new updated cabinet painting tutorial that covers all the details of the products and processes to make this project easier. Check it out before painting your cabinets!
Now, read on to get all the juicy details that have come up over the last year or so…
Painted Kitchen Cabinet FAQs
What kind of primer is that?
DecoArt makes a primer for their Satin Enamels paint. It's called Americana Decor Stain Blocker/Sealer. It keeps the wood tannins from bleeding through the paint and prepares the surface for good paint adherence. It's not a sealer for using on top of the paint, but as a base coat.
Update: As of March 2020, I've been informed that the DecoArt primer is no longer available. If you feel like you need to prime your cabinets, I recommend Zinsser BIN Advanced Primer. I've used it on all sorts of wood painting projects and it works great!
Do I need to prime before painting?
You may not need to prime at all. The Satin Enamels paint is specially formulated for wood cabinetry and furniture, and as long as your cabinets are in good shape, you could probably skip that step.
If your wood is old, dried out, or stained from tannins or wood knots, you might want to try a primer first, especially if you're painting white over dark wood.
Otherwise, I can tell you that I've used Satin Enamels in several other cabinet and furniture projects with no primer, and no problems!
Could I use a different kind of paint?
There are lots of different ways of painting cabinets, but for this method I would only recommend using DecoArt's Satin Enamels, or Valspar or Behr Cabinet and Furniture Enamel. These paints are specially formulated for this kind of project, and don't require sanding.
With other paint, you'll need to do a lot more sanding, prepping, and sealing. You can get Satin Enamels at most hobby/craft stores (Like Hobby Lobby who always offers a 40% off coupon!), on Amazon, and directly through DecoArt's website. You can get Valspar Cabinet Enamel at Lowe's and Behr Cabinet Enamel at Home Depot.
With DecoArt, you can also mix colors together, like I did, if you want a shade that they don't specifically offer. The Behr and Valspar paint can be mixed in all different colors.
How many jars did you use?
I used about 10 jars of Satin Enamel paint. DecoArt states on the label that a jar will cover about 20 square feet, and I found this to be accurate.
How many coats of paint did you put on?
I used one coat of primer, and 2-3 light coats of paint. That is, most of the cabinets got 2 coats of paint, but certain spots required a 3rd touch up. And as I mentioned above, I wish I would have done a third coat on a few of the more high-traffic edges.
Don't you still have to sand between coats?
The label recommends lightly sanding between coats, but I totally skipped this step. I wanted to see how it turned out with no sanding, and the results were great. So I feel confident saying that this is a completely sanding-free process.
I suppose if you were painting over certain types of more porous wood, it might help to sand between coats. For me, not having the mess and time spent on sanding is at least half the appeal of this process.
Don't you need a top coat or sealer?
No, you don't need any kind of top coat. I know other painting processes recommend a poly top coat, but Satin Enamels don't need it. Their finish is smooth and durable, and scrubabble (isn't that a word? My spell check tells me it's not, but I disagree) with no top coat or sealer.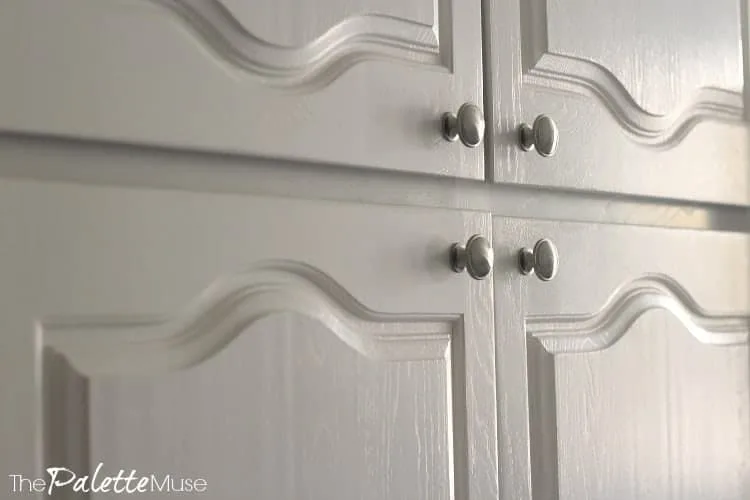 Believe me, I've had to clean my fair share of spills off these cabinets, and everything wipes clean off.
Does this work on laminate, melamine, or other non-wood surfaces?
I can tell you I've used this on laminate myself with good results. I used it for this ceiling fan makeover, and it worked great. I've yet to see anything that DecoArt can't do. When in doubt, test it out!
Updated Oct. 2019: YES you can use Satin Enamels on laminate, but switch the primer for either Zinsser BIN or Chalky Finish paint. I've been asked this question so many times, I painted the cabinets in my camper using this method, just so I could write a whole new post on How to Paint Laminate Cabinets.
Can I paint over previously painted wood?
Yes. However, you need to make sure the painted surface is clean and in good condition. If it's in good condition, you don't need the primer, unless you're making a drastic change in color.
For instance, if you're painting white over dark red, you might want to use a white primer first, just to save on paint coats.
Did you paint the insides?
True confessions, I didn't paint the insides of my cabinets, or the insides of the doors. Yes, I know I probably should have at least done the doors, but I really wanted to finish this project and move on.
I still plan on going back and doing it, but I tend to be a bit of a procrastinator, and they don't bother me when the doors are closed. I even still have the little tape stickers on them that I used to mark which door went to which cabinet.
Now you know the behind-the-scenes truth. Please don't judge me. And please do paint the inside of your doors.
Update: I did finally paint the inside of the doors. I should have done that years ago!
Does the wood grain show through?
Yes, but in a really pretty and subtle way.
Personally, I like seeing a hint of the wood grain, and knowing they are solid wood cabinets and not some cheap laminate. But that's just a personal preference.
If you want to totally get rid of your wood grain, my friend Rachel has a great tutorial on how to do that.
Where did you get the hardware?
I love my hardware! All the hinges, knobs and pulls were from D. Lawless Hardware. They're a great resource for any kind of hardware, especially historical or harder to find pieces. Their prices are great and their customer service is the best!
What color are your kitchen walls?
I love this question! The walls are painted in Benjamin Moore's Sea Salt. I searched high and low for the perfect gray, and I have loved this one every moment that I've had it.
How could you possibly think it was a good idea to paint perfectly good wood cabinets? (Imagine this one in an irritated voice.)
Ok look. I know that some of you think it's a crime to paint over solid wood cabinets. (I know this because you told me. Emphatically.) And truth be told, I had to give it a lot of thought myself.
When my house was built, this kitchen was THE BOMB. Only they probably didn't call it that back then. Maybe it was the cat's meow. Maybe it was just downright groovy.
But guess what, it's not any more.
When you hate your kitchen, you have two choices: tear it out or paint it over. Nowhere in either of those two choices do your righteous dark orangey oak cabinets get saved in their current state.
So grab your paint brush and don't look back. The seventies had their day. Now it's yours.
Painted Kitchen Cabinet Resources
If you've made it this far, you know everything I know about painting kitchen cabinets. In case you're ready to get started, I'm including links here to all the products I used, so you don't have to go back and read through the original post again.
Mohair Roller and Roller Handle
Hardware – if you're looking for the exact hardware I used, here it is: White Hinges, Satin Nickel Drawer Pulls, Satin Nickel Knobs
One Last Thing…
If you're wondering how to avoid some common cabinet painting pitfalls, be sure to check out my post on how not to paint cabinets.
Thanks again for sticking with me. I know this is a lot of information, but painting kitchen cabinets is a job you only want to do once, so kudos on doing your research. Now go for it!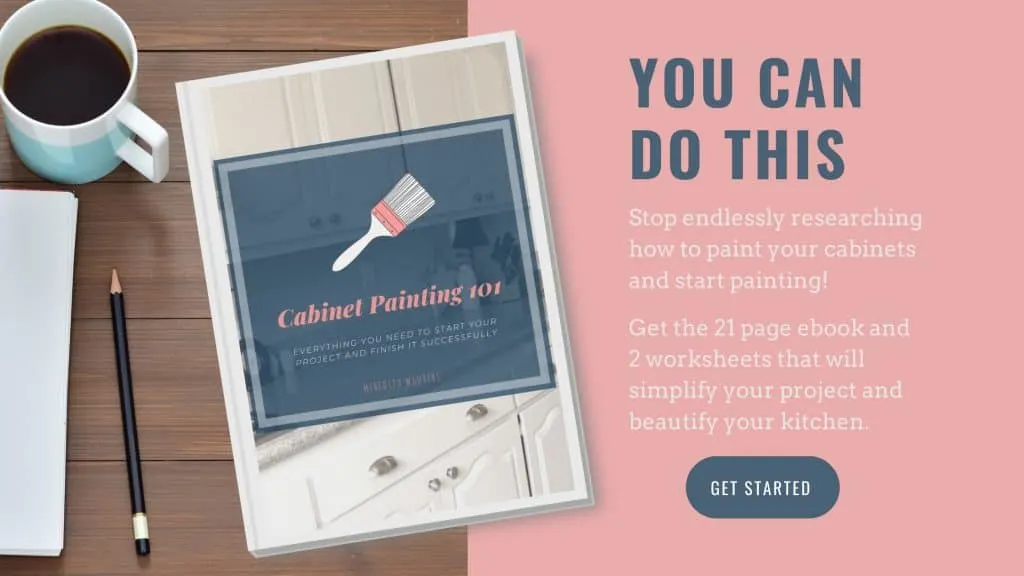 You asked, and I'm answering! This post is part of Fun FAQ's: a month long series of Frequently Asked Questions and updates on different projects. Read on for more updates on my concrete countertops, my barn doors, and my lighted headboard. And as always, I love to hear from you in the comments!
The Best Way to Paint Kitchen Cabinets
Difficulty:
Medium - anyone can do it with a little time and effort
Painting kitchen cabinets can be overwhelming, but here's how to make it easier. You don't have to empty out your whole kitchen because no sanding is required!
Instructions
Clean cabinet doors with Krud Kutter or hot soapy water.
If needed, prime cabinet door fronts with Zinsser BIN Advanced Primer, using roller and paintbrush. Don't worry about the edges of the doors yet.
Paint cabinet door fronts with Satin Enamel, using roller and paintbrush.
Label cabinet doors and remove them from the frames of the cabinets.
Repeat steps 1-3 for the cabinet frames.
Paint the edges and insides of the cabinet doors.
Reattach doors.
Notes
It may seem counter-intuitive to leave the doors on the cabinets when painting them, but it gives you a perfect work space, and this paint will not drip or run so you don't need them to be horizontal while painting. They can dry in place, all while leaving your kitchen workable during the project.
Recommended Products
As an Amazon Associate and member of other affiliate programs, I earn from qualifying purchases.