The reveal of my modern master bathroom makeover, in all its patterned tile and brass fixture glory.
Remodeling projects never go as planned and this bathroom remodel was no exception. But it's finally finished and I'm sharing the reveal today, along with before and after pics!
Recently, I gave my master bedroom an update, which I've been loving. But, as with most remodeling projects, once I was happy with the bedroom, I realized how unhappy I was with the adjoining bathroom.
This post contains affiliate links. If you make a purchase, I may receive a small commission at no additional cost to you.
Master Bath Before
My 1979 original bathroom started out as dated, dark, and dingy, but with good bones. When we bought the house, I knew it would be a functional space, and with a few updates, could be really beautiful.
I wanted bliss. What I got was… brown.
Brown toilet, brown tub, brown vanity, even brown towels!
Now, we've finally made the necessary changes to bring this tired old corner into a bright, cheerful, and modern room. I'm still surprised every morning when I wake up and stumble groggy-eyed into… a spa?
Modern Master Bathroom Makeover
First, let me remind you of how this room looked before:
You can see the "Before" post for more pictures if you'd like, but personally I just want to look at the afters!
Here's the overall effect:
We replaced just about everything, except for the vanity base. It was original custom built-in cabinetry, which means a new one would have been expensive, without much of a functional improvement.
New Bath Vanity, sort of
In other words, I like the way the vanity operated, just not the way it looked.
Nothing a little paint and beautiful hardware couldn't fix!
New Countertop and Fixtures
We removed the old green cultured marble topper and replaced it with a white quartz countertop and modern rectangular undermount sinks.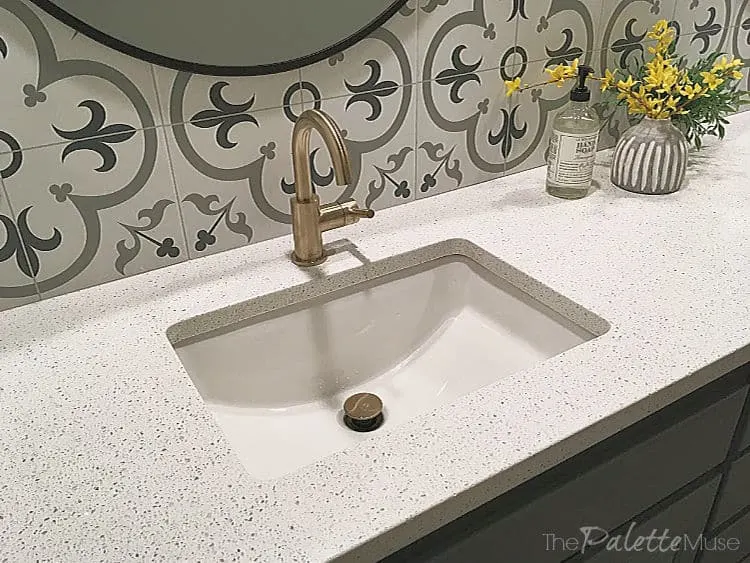 These gorgeous modern brass fixtures made the whole thing pop. I could write a whole 'nother article on how much I love my new fixtures.
New Patterned Tile Backsplash
But I must admit, it's hard to truly appreciate the improvements to the bathroom vanity when all your eyes can see is this amazing Valencia patterned tile whole-wall backsplash.
I love it. Can I say that? It just makes me so happy every time I walk into the bathroom.
I wanted the look of concrete tile, but these porcelain tiles are easier to install and maintain, not to mention more affordable! You can see more concrete tile alternatives here.
Round Mirrors and Accent Pieces
And these modern round mirrors were just the thing to break up all that pattern and contrast. I'll be sharing a tutorial on how to hang heavy things like mirrors on tile because believe me, we were shaking in our boots drilling the holes for these guys!
I hung a few small pieces of art and then I used barn door handles as hand towel bars to bring a touch of industrialism to the space, as well as balance the brass and black fixtures.
Shower and Toilet Makeover
Then I took the patterned tile from the backsplash and used it on the floor of the toilet/shower room, as well as to form two shower niches. I love how the pattern repeats throughout all the bathroom spaces.
The oversized glossy subway tiles with just a touch of wavy imperfection break up the pattern nicely, and the light gray grout brings out the pattern of the tile just a little bit.
I completed the look of the shower with this lovely brass shower trim fixture from Delta, to match the brass sink faucets on the vanity.
Of course, I replaced the icky brown toilet and matching jetted tub with clean, basic white. Ahhh, that's better already.
Brass and Black Accessories
Again, I balanced the brass with a black shower curtain rod and toilet paper holder, and added two brass towel hooks from Hobby Lobby on the empty wall behind the door.
I didn't want to go too far in the direction of all brass or all black, so I balanced them together, all on a white and gray background. The touch of gray in the patterned tiles and the grout brings everything together in the middle of the color spectrum.
Master Bathroom Bliss
Now this bathroom is soothing and spa-like, instead of dreary and dreadful. It gets absolutely zero natural light, so the white and grays really brighten up the place, and the minimalist brass fixtures bring everything into modern style.
Make Your Remodel Easier
A master bathroom remodel can be daunting, especially if you're already living in the house at the time. We helped ourselves by moving into our guest bathroom, and by keeping an eye on the remodeling budget with this worksheet.
Modern Bathroom Design Style
The hardest part for me personally was picking the tile and committing to one style. I love modern style decor, but I also love just about every other style too!
I eventually settled on a modern bathroom with patterned tile because I like the clean lines of modern style, and the classic feel of patterned tile. It's a match made in heaven, and that's where I feel I've gone to every time I step into my oasis… I mean, bathroom.
In my opinion, bathrooms should be super-clean first, and pretty second. And if you can have both in one room, that's bathroom design bliss. No brown toilet necessary.
Master Bathroom Remodel Resources
Remodeling our Master Bathroom has been a blast, and I couldn't be happier with the results! Here are the resources and materials we used, to help you make your master bath into that spa-like retreat you've been dreaming of.
Photo Credit: Home Depot
This Champagne Bronze shower and tub trim kit adds the perfect touch of gold sophistication to a modern bathroom.
I love the warm brass color of this faucet, as well as it's modern clean lines. I installed mine without the plate on the bottom, to add to its streamlined look.
This minimal round black mirror is the perfect compliment to a patterned tile backsplash wall like mine.
Speaking of patterned tile, this black and white ceramic tile gives the look of 4 tiles put together but is much easier to install than four smaller tiles. It's a classic blend of modern and traditional patterns.
I used these barn door handles as hand towel racks on the wall next to my vanity. They're thick enough to handle a fluffy hand towel, and add a bit of industrial flare to the modern style of the bathroom.
These aren't the exact towel hooks I used (mine were sold out) but I really like the look and color of these sturdy hooks.
I wanted a plain black curtain rod to compliment my white shower curtain, while maintaining a minimalist style profile, and this one fit the bill perfectly.
I couldn't find plain black shower curtain hooks, but these gunmetal bronze hooks blended right in and look black next to my black curtain rod.
Finally, I tried several different white shower curtains, but eventually decided that I wanted a plain, minimal shower curtain to balance the patterned tile and fancy shower fixtures. These give me that hotel feel whenever I walk into the bathroom.
I hope you can find some help and inspiration in these photos! Soon I'll be sharing step-by-step guides on how we hung our mirrors, and how to install cabinet hardware.
Be sure to stop back by for those, or sign up for my newsletter, so you'll know when they're published.
And let me know if you have any questions about this master bathroom makeover or the patterned tile I used. I always love to see your comments!