Today I'm bringing you a slightly different kind of color palette. Rather than taking my inspiration from a photo, I'm using my own house. These are the colors I'm currently surrounded by in my own home. (Sadly, most of them aren't on the walls yet. I'm actually surrounded by paint cans with the colors inside.) But here's the plan.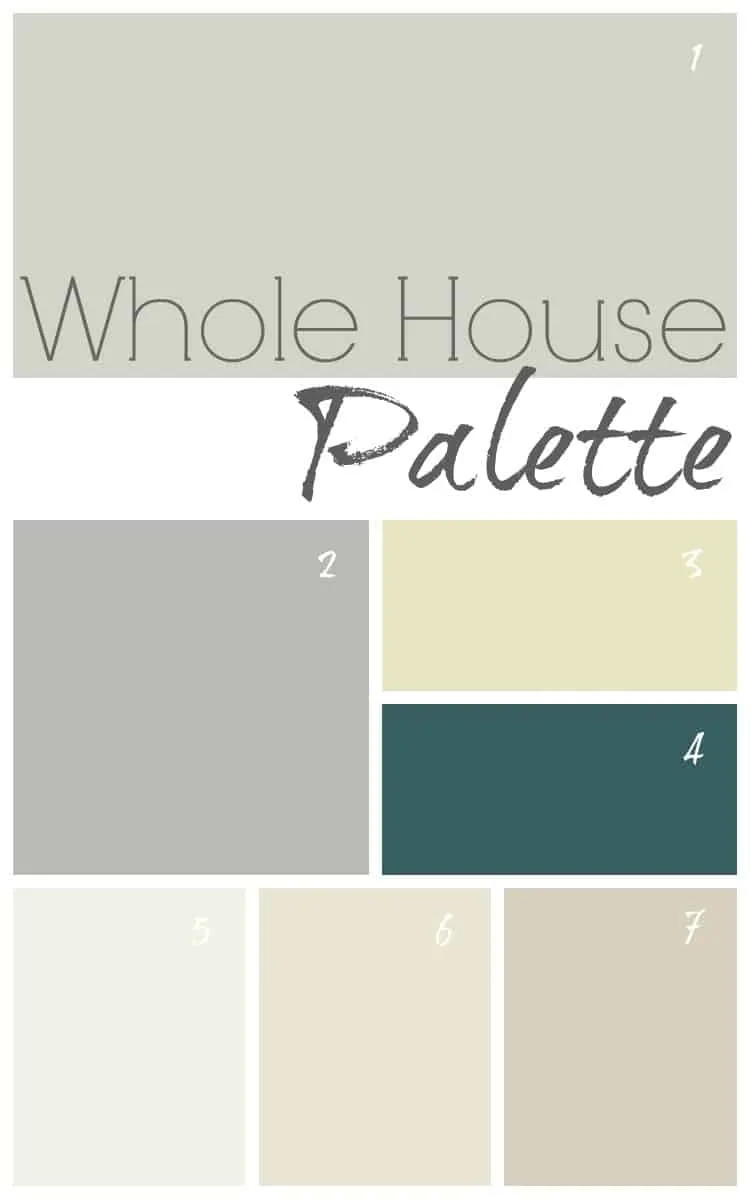 I would call this a Modern Farmhouse Palette. While it has many of the light neutrals of a traditional farmhouse style, I threw in a couple of vibrant colors to keep things interesting.
Here are the colors by the numbers:
Benjamin Moore Gray Owl OC-52. Hallways and Entryway. This is one of my favorite grays, and it touches almost every area of my house in some way.
Benjamin Moore Coventry Gray HC-169. Living and Dining Rooms. Coventry Gray is on the same spectrum as Gray Owl, just a touch deeper.
Valspar Green Highland 6007-5A. Family Room. I've been wanting to use this color for a while now, so when we moved, it was the first color I painted in one of the rooms. It's a fun apple green color that looks yellow in some lights and green in others. Great for a family room, threw in pops of blues, greens, and even pink in the accessories.
Valspar Perfect Storm 5001-6C. Living Room Accent Wall. While I'm not usually a fan of accent walls, I fell in love with this color and had to have it so I painted the largest wall of my living room.
Valspar Swiss Coffee 7002-16. Trim and Doors throughout. This is my all-time favorite white. It's a good neutral warm white that is perfect for furniture and trim.
Valspar Totten's Inlet 7006-9. Kitchen Cabinets. I used this color in my last house's kitchen, and I loved it so much that I'm bringing it to this kitchen too. While it looks a little brown in this picture, it's actually a warm creamy white in person.
Benjamin Moore Sea Salt CSP-95. Kitchen Walls. Not to be confused with Sherwin Williams' Sea Salt, which is a pretty sea glass color, this one is a neutral light taupe-y gray.
Now, if you know me well, you may be thinking, "But Meredith, where is all the color?" I know this is a very neutral palette, but don't worry, I'll throw in plenty of color in my decorations and accents.
The house I'm currently living in is open throughout (thanks to my hubby removing most of a very closed-in wall!), so the colors need to play well together. A neutral palette creates a good visual flow from room to room, while each room gets its own unique personality from furnishings and decorative elements such as curtains and pillows.
Let me throw in one last word about grays. In my last post, I confessed to you my struggles picking the perfect gray. Check it out for details, but the upshot is that in my house, the first and second colors listed above look a lot more blue in some lights than they do here on this palette.
That's because they are paired with the fourth color, that deep teal, which really pulls out the blue from the neutral gray. I love them just as they are, but that optical trick is why I decided to go with warmer grays in my kitchen (#6 and #7).
Just be aware of this phenomenon as you're picking colors for your own home, and be prepared to adjust as you discover how these colors look and feel in your own space.
As always, I love to help pick colors, so let me know if you have questions!