This week's $100 Room Challenge Farmhouse Table project is brought to you by elbow grease and sweat. Lots of sweat.
There's no question – painting furniture is easier than unpainting it. I'm glad I tackled my kitchen table for the first project of this challenge, because after this all the other projects should be easy!
If you're just joining, check out my previous post on my plans for this month's $100 Room Challenge first. Then read on to see how to reclaim a farmhouse table.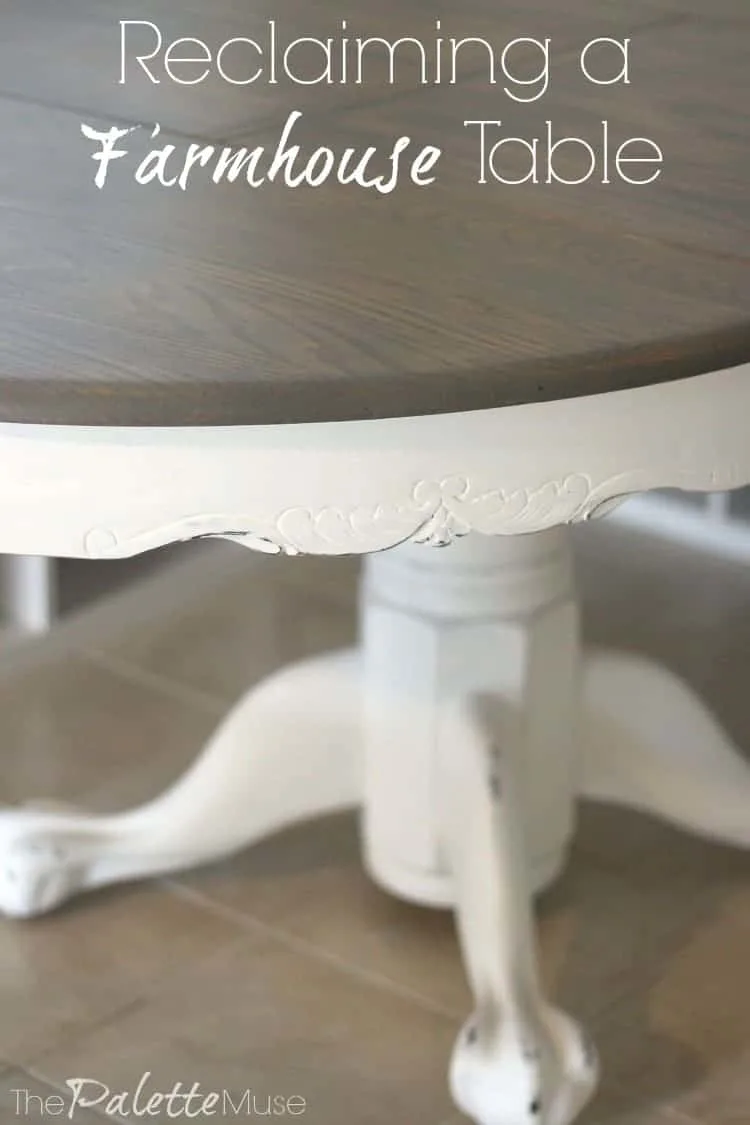 ~ This post contains affiliate links. If you make a purchase I'll receive a small commission at no charge to you. Thanks for supporting The Palette Muse! ~
This black kitchen table is the perfect size and shape for my breakfast nook, but the black color was a little too intense, and the paint was beginning to show signs of wear and tear.
We're at least the 4th family (that I know of) to own this table, and I love that it has a little history to it. So I wanted to do something special to bring it back to life.
Usually, I repaint things when they need a makeover. Paint is what I know. Chalk paint, enamel, latex, oil, acrylic. You name it, I love it. What I don't love is sanding, and this project required a lot of it.
I thought "I'll just refinish the top and paint the bottom. How hard can it be to sand and stain a flat surface?" I should know better by now than to ask questions that start with "How hard can it be…".
This project had me wishing I'd taken a shop class or two in high school, rather than all those art classes. (Back then Shop was for boys and Home Ec was for girls. I bucked the system by filling up my electives with art classes instead of Home Ec, much to my family's detriment now. But again, I digress.)
This was a crash course in sanding, staining, and sealing. And I'm sharing it all with you, in case you opted for skipping shop class when you had your chance too.
How to Refinish a Farmhouse Table
Taking a table from painted to stained is a simple prospect really, if you have the right tools and a little patience. (I had the former but not the latter.) You'll need:
This might look like an intimidating list, but if you're like me, you may already have most of these tools and ingredients in your garage. Fortunately I had the sander, all the sandpaper, the brushes, paint and stain already. All I needed to buy was the Polyacrylic top coat and paint stripper. (That's important because of our $100 budget for this entire challenge!)
This is basically a 3 part process: Sand top, stain & seal top, paint & seal bottom. Let's take it one step at a time…
Farmhouse Table Step 1: Sanding
The really messy part of this project is sanding. I sweet-talked my hubby into helping me move the table outside onto our back patio, so I wouldn't have to worry about sanding dust getting all over my kitchen. Then I attacked it with the sander.
The black paint came off just fine, but then I realized that I really needed to get below the previous varnish in order to stain the wood. That part wasn't so easy.
I ended up using a chemical stripper to cut down on sanding time. I'm usually against using a stripper but I got so tired of sanding that I decided to go for it. I applied the stripper, let it sit for an hour, and scraped it off.
Then I sanded everything down again. I still had some patches where the varnish remained, and I had a little time on my hands, so I decided to repeat that process again.
Finally, I had made it through all the coats of paint and varnish, and was left with a bare wood table top. Now it's time to stain…
Farmhouse Table Step 2: Staining/Sealing
Once you've completely sanded through any type of sealant that's on your table, you're ready to stain the wood. First, clean off any sawdust. I used a dry paper towel to dust it off, then came back with a barely damp paper towel to pick up the fine dust.
Then I dipped one of my rags in a little stain and rubbed it on, in the direction of the wood grain. (I was in such a hurry to get this part done that I completely forgot to take pictures, but you can see the same process in this post about my coffee table.)
After a few moments (which was equal to how long it took me to stain the whole table top) go back and wipe the surface again with a dry rag to absorb any excess stain. Allow to dry for a couple of hours and re-coat if needed. I did two coats of stain.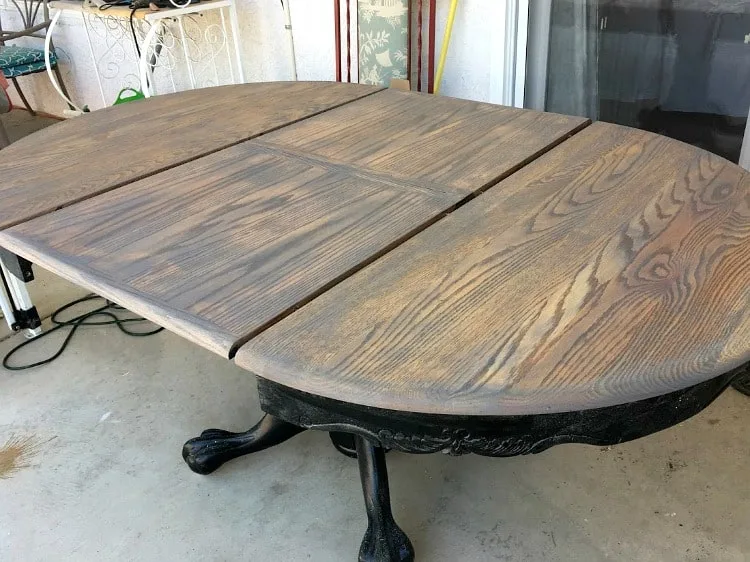 Let me point out a couple of things about this picture. First, my patio is in shambles. I'm so embarrassed that I didn't look around and clean up a little before taking pictures but oh well, that's real life for ya. Second, the table top doesn't look all that great yet. It really needs a top coat to condition the wood and bring out the pretty colors in the stain.
After the stain is completely dry (I left mine over night), it's time to apply a sealer or top coat. For this I used Polycrylic. I like Polycrylic because it's waterbased, which means easier cleanup and less fumes, and it doesn't yellow over time like Polyurethane does. I also like a satin finish (rather than glossy) since I'm going for a weathered barn wood look, not shiny and new.
I used my synthetic bristle brush to paint on a light coat of poly all over the table top. It's better to do several light coats than one or two heavy coats.
After 8 hours, I lightly sanded the first coat of poly using my 220 grit sandpaper. Then I applied another coat in the same way as before. I ended up putting on a total of three coats since this is our kitchen table and it gets a lot of daily wear and tear. We are not a coaster-using family so our table top needs to be pretty forgiving.
Farmhouse Table Step 3: Painting the Base
Now that my table top has a new lease on life, it's time to finish the base to match the farmhouse style of the top. Now we're in territory that I understand. I pulled out my trusty stash of chalk paint and relaxed into a job that I know well and enjoy.
The only challenge was climbing around under the table. I can't tell you how many times I bumped my head and ended up with fresh paint in my hair. But that's a normal occupational hazard, I guess.
The great thing about chalk paint is you don't have to use much finesse. I slapped on about three coats (because, black paint) and let those dry well. Then I sanded down the areas that naturally get the most wear and tear, to bring out the farmhouse style a bit.
Finally it was time for a quick coat of creme wax on top of the white paint, and voila, new table! If you've never used chalk paint before, the wax finish is important to bring out a little shine and protect the paint.
You simply dab a rag into the wax and rub it on all over the chalk paint. Then once the wax is dry, come back with a clean rag and buff until you get a satiny finish.
Now the base and the top are protected, and this beautiful farmhouse table is ready to use.
I think I might have turned into a coaster nazi though, now that I've done all that work!
Next up, bench seats!
Week 1 ~ Week 2 (you're here) ~ Week 3 ~ Week 4
Be sure to check back for those, and in the meantime, check out what Erin and my other blogging buddies are up to in their room challenges…