Hi, and welcome back to the second half of Linocut Block Printing! I hope you've had fun drawing and carving your block. Check out Part 1 if you need help with that part of the process. Today we pick up where we left off…
Linocut Block Printing Part 2: Proofing & Printing
This is the fun part! Oh wait, did I say that about the last part? I guess to me, it's all fun. This is where you get to see your project take shape on paper, and in color.
As always, first gather your supplies.
To print your design, you'll need:
Clean pieces of paper (this can be regular copy paper)
A roller (specially made for printing ink)
A palette (here I just used wax paper, but a glass or metal plate would be ideal)
Ink (I like Speedball)
The paper (or material) you'll be printing on.
A large smooth spoon (or if you are really into printmaking you would use a baren, the tool specifically for the purpose of rubbing the back of the paper onto the inked block)
Your block!
Plan on buying the roller and ink at your local art or hobby store. I probably should have mentioned these in Part 1, when you were buying supplies!
Proofing
Before printing on your final piece of paper or material, you need to give it a trial run. This is called "pulling a proof." You may sometimes see fine art prints labeled and signed as "Artist's Proof." This just means that these pieces are part of the development of the final process, and usually each one is unique. In our case, the proof helps us see where there are areas that need adjustment. My block needed a lot of adjustment!
Sometimes with woodblock or linocut printing, the extra marks that show up are part of the charm and style of the design. But in this case, I was going for something a little more graphic, with less movement, so I needed those little extra lines gone.
I simply washed the block, and brought out my carving tools again. Looking at my proof for reference, I carved out more of the background areas that were showing through. It was fairly simple to see on the block which areas needed to be reduced, since these are the pieces that retain a little of the ink on them.
Once that was done, I pulled another proof. When you are satisfied with the outcome of the proofs, it's time to make the final print. Here is the process for printing, which is the same process for proofing.
Printing
The printing process takes a little bit of time, and a good amount of space. Be sure you have a whole table top to devote to this project, and preferably not the table that your kids will be eating dinner on in 20 minutes!
First, cover your area and lay out your supplies. Closest to you should be the area where you will be printing. At arms length is where you will set your palette, or ink plate. I was in a hurry here, so I just used wax paper (which I don't recommend). If you are looking for a good ink plate, look no further than your own kitchen. A baking sheet or large, completely flat plate will work. I got a large microwave oven turntable plate from my local thrift store that is perfect for this purpose. To keep your family completely safe from hazardous inks and materials, plan on relegating the plate to the arts & crafts supplies, rather than using for food later.
Squeeze a small dollop of ink onto the plate. Use the roller to spread the ink out in every direction until it evenly coats the plate and the roller. It may take a little practice to get a good even coat, but this is essential to a good print.
Be sure your block is clean and completely dry, then use the roller to roll the ink onto your block. Make sure you have even, thin coverage.
Lay a clean sheet of paper on the table, and set your block face up on top. This keeps any stray ink that may have gotten rolled or dropped onto the table from getting on your final product.
Lay the actual piece of printing paper or material face down on top of your block.
Use the back of your spoon (or baren) to rub gently and evenly across the back of the paper or material. This presses the ink from the block into the paper.
Carefully pull the paper up from one corner of the block to the other. Lay paper flat to dry.
Congratulate yourself on your new piece of art. Or, decide your block needs more work, and call this piece a proof. Then go back, fix your block, and start the printing process over again.
I think I mentioned in Part 1 that printmaking is a very process-heavy art form. Some people love this about it, and others can't stand how much work goes into it. The good thing about it is that you can print from that block over and over again, in any color combination you can think up. That makes it great for handmade cards, textiles, wall stenciling, or any other craft that relies on repetition.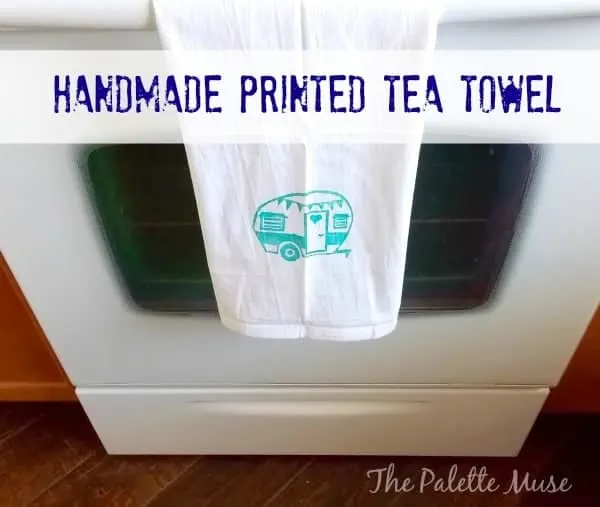 I hope you enjoyed this tutorial, and I'd love to hear from you (and see pictures!) if you make your own prints. Or, if you like the idea of hand-printed tea towels and such, but are rolling your eyes at the very thought of going through this whole process, check out my Etsy Shop Ever Evangeline, to learn how to get your very own, without any of the work!