These remodeling budget hacks will save you money and help you take back control of your project before it turns into a money pit!
I love saving money. And I love remodeling my house. Alas those two hobbies, by definition, often seem at odds with each other. But I've learned a few things over the years that help me drastically cut my remodeling costs, and I thought it might be helpful to share them with you today.
This is our third house that we've owned and remodeled, and it seems like there's always another project on the horizon for us. Right now, we're working on our floors (more on that soon) and we hope to hit our bathroom next.
We normally work on one project at a time, whenever money becomes available, which means our eye is always on the budget, and I'm always looking for ways to stretch our remodeling dollars.
Turns out there are more ways than you might think to save money while fixing up your house. I've corralled 16 so far, and hopefully will find more in the future.
These are tricks anyone can use, even with no experience in home makeovers. Some take a little more time and effort than others, so you can pick and choose which methods will work for you on your project.
~ This post contains affiliate links. If you make a purchase, I may receive a small commission at no additional cost to you. ~
16 Remodeling Budget Hacks Anyone Can Do to Save Money
1. Have a Budget.
Snooze. Budgets are so boring. I can hear you thinking, "Meredith you better have something more than this for me." But just hear me out for a second. Without a budget in mind, it's way too easy to spend more money than you realize.
All big home remodeling projects are made up of very small parts. Upgrading your kitchen cabinet hardware from $3 a piece to $5.50 a piece may not sound like a big deal when you're standing in the hardware store gazing lovingly your new favorite drawer pulls. But when you need 54 of them, that adds up to an additional $135!
Budgeting helps you keep track of all the moving parts, which is especially necessary on bigger projects. Plus, this step will help with the next four steps.
How to Start a Remodeling Budget
But what if you've never made a budget? It's easier than it sounds. You don't need anything complicated, just basically a list of all your expected expenses, along with the actual expenses.
You could jot it down on the back of a napkin, on a yellow legal pad, or use an excel spreadsheet like me. (Actually I use Google Sheets.) I'm not an excel whiz, but I like that I can access my list anywhere on the go with my phone. I simply have a column first for the name of the expense, such as "Drawer Pulls (54 pieces)"
Then I have a column for estimated cost. This would be the total cost for that line, so 54 pieces times 3 dollars a piece, totals $162. Then I have a third column for actual expenses. Here the total would be 54 times 5.50, so $297.
By the way, I know 54 drawer pulls sounds like a lot, but I promise you have more in your own kitchen than you think!
Don't drive yourself crazy over this, but do list as many details as you can think of. (You'll inevitably add more as you go through the project.)
To save a little sanity, try keeping the expenses grouped in order of location or project. (Drawer pulls can go under cabinetry or hardware, whichever makes the most sense to you.) This is also where an excel (or sheets) file can help, so you can easily move things around as you add lines.
Keep a line at the end for "contingencies." This is not for miscellaneous items, but actual unforeseen circumstances. It's usually impossible to plan for everything, so plan for the things you can't plan for!
Keep a running total at the bottom of the page, especially of the "Actual" column. This way you always know where your money's going, and you can adjust in other areas if you splurge or go over budget on something along the way.
Finally, don't forget taxes! In our state, sales tax is almost 8% which can add up to a lot of money! If your contractor is giving you an overall budget, this may be included already, but it's a good idea to ask.
Check out this Bathroom Remodeling Budget Worksheet post for an example, as well as a downloadable budget worksheet that you can use for your own project.
2. Do Your Research.
This one goes hand in hand with #1. Don't rely on a contractor or retailer to tell you how much a project will cost. Even if your contractor is totally trustworthy and his or her values are aligned with yours, you're still the only one who will care as much about your wallet as you do.
Knowing how much things cost will help on the budgeting and planning side, as well as help you identify possible savings along the way.
These days it's so much easier to research anything from the comfort of your couch, so there's no reason not to educate yourself before you start a project, even if you're not the one doing the work. I like to check Home Depot for the construction part of the project (like how much does a bathtub cost?) and Overstock and Hayneedle for home goods, decor, and furniture.
A little online comparison shopping could save you big money over the course of a large remodeling project, all without even getting your hands dirty.
3. Get Multiple Bids from Contractors.
If your remodeling project involves using contractors, get at least 2-3 bids from different companies. This is hard for me because I always want to jump right into a project, and I hate taking the extra time to wait for bids to come back. But it's saved me money on almost every occasion.
Here's one example:
I have a contractor that I've been working with for years. I love him because he does it all and he always takes care of us. So recently when we needed some roof repair work on one of our flip houses, I didn't even think to ask anyone else for a bid.
Fortunately my partner suggested we check with a roofing company, who turned out to be much more reasonable for that part of the project. (Which makes sense because that's what they specialize in.) We saved money on the roof and freed our contractor up to work on the other projects around the house. Win-win!
4. Keep a Secret Contingency Budget.
This sounds sneaky, but it's actually a good way to save yourself from… yourself.
This one is akin to the reason I never carry cash on me (besides having my wallet stolen twice) – because I'll spend it! When you set up a budget for a remodeling project, keep back 5-10% of your total budget in a completely separate account, or just a cookie jar on the counter.
It's not part of your remodeling budget, which should already include a contingency line, but it's truly a SHTF emergency fund.
So for instance, if you have $25,000 to spend on a new kitchen, do the budgeting on $22,000. Tell your contractor your budget is $22k, not $25. Heck, tell yourself you have $22k. Put that other money somewhere safe and forget about it.
If you've ever watched any home remodeling show, you know there's always that moment when they open up a wall for a simple job and realize they have to re-wire the whole house, or something similarly catastrophic.
Well, I'm here to tell you from personal experience that really happens. And it always costs more than your contingency line in your budget. So rather than have to take out an extra loan or call in a favor from your in-laws, plan ahead for this stomach-churning moment.
Fun Tip: I like to call this secret fund my Margarita Money. If we get to the end of the project and haven't had to dip into our emergency fund, then we use some of it to take ourselves out for margaritas. (That has yet to happen, but a girl can always hope!)
5. Over-communicate with your Contractor.
Over-communicating can feel like micromanaging, but I promise it's better than under-communicating. If your contractor is not open to frequent communication and detailed questions, you need to find a different contractor, plain and simple.
This person is managing a big part of your life and you want to be able to get a hold of them when you have questions.
This goes for before the project starts, as well as throughout the work. Communicating up front will save loads of time and money because your contractor will be off and running in the right direction from the start, which will prevent costly changes and delays.
Pinterest is a great way to communicate your style and ideas for a remodel. Make yourself a board and share it with your contractor so they can get an idea of what you're going for.
I know it's not always easy to know exactly what you want from the beginning, especially if you're new to remodeling, so if you need to make changes along the way, tell your contractor immediately when you realize something's not going the way you imagined.
In the middle of a large remodeling project, any change can spell a delay or upcharge, due to the scheduling and ordering processes for each part of a project.
For instance, if your contractor is laying flooring and you decide you want to change products, it can take a few weeks to get new product delivered. In the meantime, everything else that needs to go on top of the flooring will have to wait. And there may be a restocking fee for returning the original product.
Changes do sometimes need to happen, and a good contractor will work with you on those, but communication is key to mitigating the costs associated with changing something mid-project.
6. Barter/Trade for Services.
If you have something to offer, your suppliers or contractors may be willing to do a trade. This not only saves cash, but taxes as well. Just be careful of your time when you're valuing your side of the trade.
If you're a CPA and you offer to do your contractor's taxes in return for a discount on his services, you may find yourself over-committed at tax time, while also trying to manage a remodel at home.
7. Dig Through the Boneyard.
Don't worry, this isn't as creepy as it sounds. The boneyard is where granite suppliers keep their scraps of granite (and other solid surface products.) If you're remodeling a kitchen or bath, this can save you hundreds or thousands of dollars if you can find what you need, in the size you need.
Be sure to ask your granite supplier or contractor if this is an option for you, once they've measured your counter-top space.
8. Shop Closeouts and Floor Models.
This is basic budget hacking 101. I recently bought two bathroom vanities that were mildly damaged for our flip house. The damage on each was a slight chip to the back left edge of the cabinetry, which happened to be the edge that ran against the wall in the bathrooms we were remodeling.
We probably saved about $800 on those two vanities alone, not to mention all the other instances like this throughout the house.
When looking at floor models and close-outs, it's important to keep the bottom line in mind. It can be hard to pass up a $500 vanity that's on sale for $100, but if your bathroom is laid out in a way that the damage would show and therefore have to be fixed, you might end up spending as much money to fix it as you thought you were saving.
Likewise a dent on the front of your brand new stainless steel fridge may not be worth the money you save over buying a flawless one to be the centerpiece of your new kitchen.
It's never a good idea to buy something you don't need, in the name of "saving money." But if it happens to work out that you find what you're looking for on sale, this is like finding free money in your remodeling budget!
9. Look on the Mis-tinted Paint Rack.
I never walk through Home Depot without looking at their rack of paint that got mixed incorrectly. This is perfectly good paint that just happened to be mixed in the wrong color for another buyer. If it happens to be the right color for your job, you can save up to $30 or $40 per gallon!
I've been known to base whole projects around a $5 can of mis-tinted paint.
10. Check the Store's Return Policy.
This could save you money at the end of your project if you have leftovers, or if you change plans halfway through. Most of the major hardware stores like Home Depot or Lowe's have a simple return policy where you can return anything you haven't used without penalty.
However some of the specialty stores are able to save money by ordering your product directly from the supplier, and do not accept returns, or will charge a restocking fee.
Personally I like the option of returning something if I don't use it. That makes it easier for me to make decisions, as well as estimate quantities. But don't be afraid to order something that can't be returned, especially if you know what you want and your contractor is helping with measuring for quantities.
Just find out ahead of time whether you can return the item, or if it will cost you more than it's worth to return it.
I never try to overestimate too much when I'm ordering quantities such as flooring, but if I do, it's nice to save the money by returning the extra. (My last flooring project, we had two planks left at the end. Way too close for comfort, but at least I didn't overspend!)
11. Ask for a Discount.
You'd be surprised what people will give you if you ask them nicely. American culture sometimes implies that asking for a better price is sleazy or low-class, but many other cultures love to bargain and negotiate.
When asking for a discount, try to read the situation and be careful not to offend. This works better when you're dealing with the owner or manager, or someone who has the power to make sales decisions. (The cashier at the front is not usually this person.)
You can always ask for discounts when something is damaged, and don't be shy about asking when you're buying large quantities of an item, especially if you're paying cash.
Store owners, managers, and commissioned salespeople are motivated to sell the product that you're trying to buy. Sometimes this can work in both your favor if you can work out a deal. Putting aside your pride and asking nicely for a better price can save you real money.
One little note – don't try to stong-arm anyone into giving you something they don't want to give, especially your contractor. You will be working with this person for a while, so your relationship is important!
12. DIY When You Can.
There are usually some parts of a remodeling project that you can do yourself. Not everyone wants to DIY a whole kitchen remodel, but you probably can do more than you think.
Ask your contractor if they're open to letting you do some of the work to save money. Sometimes doing the demolition and haul-away can save big change, if you're willing to get a little messy.
Personally I love to paint. I never get tired of painting walls. I can't imagine paying someone else to paint my room, even if I was outsourcing everything else. However, we do let our contractor do the painting in our flip houses because it's hard to be on-site enough to get that part of the job done when it's convenient for him.
It's easier for his guys to do it on his schedule than for them to get out of our way while we come in and paint. He's way too nice to say anything, but I think he cringes a little whenever I suggest letting me paint, so I let him do it his way.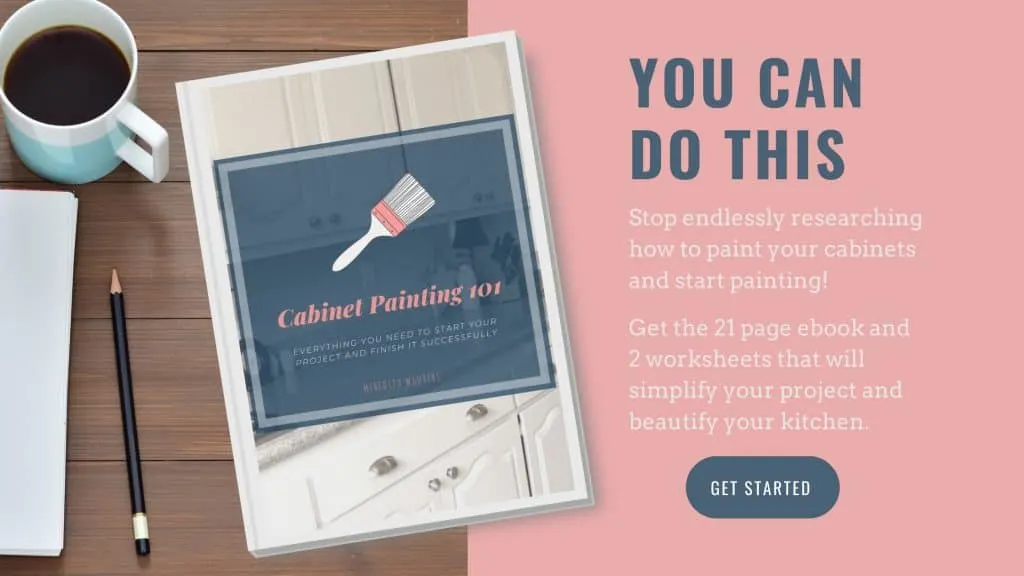 This is a balance when working with a contractor, but it's worth pursuing and can save loads of money if you can work something out. Most contractors will not let you DIY certain parts (like electrical) even if you think you can, so respect their boundaries unless you want to DIY the whole thing. (Hello, Electrician and permits!)
Also, be sure if you're DIY-ing certain parts of the project, that your contractor is really giving you a break on that part of the cost, not just letting you "help" to save your pride.
13. Think Outside the Big Box.
Shop small, as in small businesses. Not only is it better for your local economy, but it can be better for your bottom line too. I always have the mistaken idea that smaller shops will have "boutique" pricing, which is sometimes true, but sometimes their prices are even better than the big box stores. And the inventory is always more interesting and unique.
This is where having a detailed remodeling budget can help because you'll know what you're planning on spending on each part of the project and can source some of those parts locally through small businesses.
14. Re-use and Re-purpose.
This is my favorite way to save money! I love being able to salvage parts of the original house to use in the new and improved version. It's not always possible due to wear and tear or damage, but if you can save original trim or flooring or cabinetry, you'll save hundreds or thousands of dollars.
You can also find items to re-purpose at your local thrift stores. If you have a Re-Store by Habitat for Humanity near you, they're a gold mine for reusable house parts such as doors, hardware, lighting, and even furniture.
Plus, you're giving back to your community at the same time as saving the planet and your wallet.
15. Be Flexible with your Schedule.
Remodeling tends to be a seasonally-oriented business. Most people plan remodeling projects around life events and weather, which usually translates to summer here in the U.S. Sometimes you can get a better deal from your contractors by planning your projects during their down-time.
Here in the Southwest we have a lot of stuccoed homes. We also have a long warm season and a shorter winter, so stucco companies are pretty busy 9 months out of the year. But in the winter, some of them run specials where you can save as much as 25% by scheduling your re-stuccoing during the winter when they don't have as much business.
The same is true to a lesser degree with interior remodeling. For some reason, contractors are usually less busy during the winter, so they may give you a break on costs if you help them stay working and keep their teams on a job.
If you can be flexible with your timing, you can save money on a whole project this way.
16. Allow a Splurge (or Two).
This last one may not be an actual money saver, but it will help you be happier with the whole project when you're finished spending all that money.
If you've been watching your remodeling budget, then you know how much money you have to spend on each item. So if you want those fancier drawer pulls, go for it! Just know you might have to cut back somewhere else, and don't forget to do so, or you won't have any Margarita Money left.
Sometimes the trade off is totally worth it, and you'll be happier in the end if you didn't have to compromise the things you really wanted along the way. So while it may not bring more money to your bottom line, the end effect will be a project that feels totally worth every penny. Which really is priceless.
Give These Remodeling Budget Hacks a Try
Give it a shot! What have you got to lose? With a little extra time and attention, you can save real actual money. Which, if you're like me, will just go into the next remodeling project. Or a margarita. Someday.
Did I miss anything? I'd love to hear your favorite ways to save money on your house projects. Leave me a comment below!