It's time for another $100 Room Challenge! If you remember during the last challenge, I redid our guest bathroom, and learned just how quickly $100 and four weeks can fly by. This time, I gave myself a new challenge to work a little DIY magic on my growing girl's bedroom makeover.
I love the idea of using what you have, getting creative, and putting in a little elbow grease to transform a space for very little money. So when Erin of Lemons Lavender & Laundry asked if we wanted to do another challenge, I already knew which room I'd be taking on. My 10-year-old daughter has been asking me since we moved in when we can paint her room. I finally told her, "How about if, instead of just repainting, we give your room a whole makeover?" She was ecstatic and spent the next few nights searching pinterest for inspiration photos. (What can I say? I raise my kids right!)
Here is the adorable inspiration image she decided on:
This is All Thing's Thrifty's Secondhand Farmhouse Bedroom Makeover, and it's full of good ideas. I especially like the gold vinyl polka dots, and I think it'll be pretty easy to make those on my Silhouette machine.
So now that you have an idea where we're going with this room, let me show you where we're coming from.
Yikes! Needs a little work!
When we moved in, every wall surface in the house was covered with this "Dusty Beige." It reads a little white, a little pink, but mostly "blah." It's not terrible for a little girl's room, but this little girl is outgrowing pink quickly, and is developing strong opinions on all things related to style and design. (This development makes for some interesting discussions about clothes, but that's a topic for another blog.)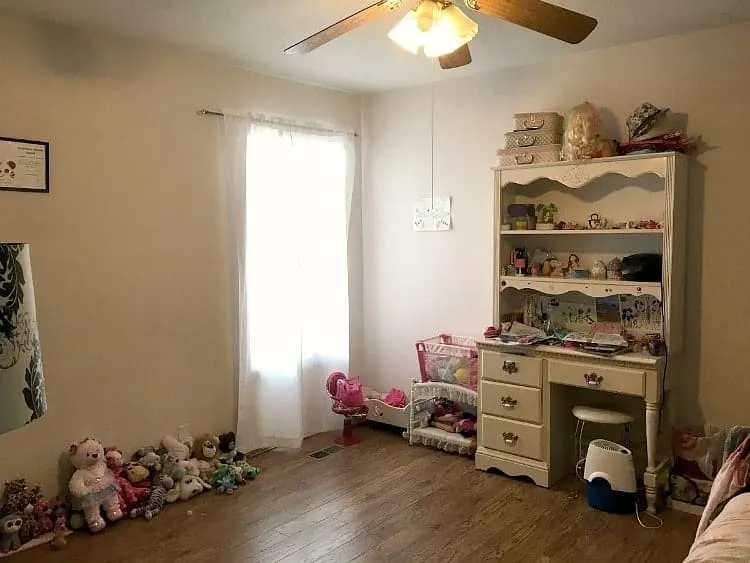 My daughter loves aqua, and we've been adding bits of it throughout the room, but we're planning on pulling it all together with a light blue-green wall color.
Storage and organization has been a bit of a problem for us. As you can see, she has a thing for stuffed animals and dolls. (I love that she's not yet too grown up for her "babies!") She actually plays with them and spends time rearranging them, so I don't want to put them away somewhere, but we need to figure out a way to display them and get them off the floor, where they look like they are amassing a small army for a fluffy invasion of sorts.
And let's talk about that fan. Actually, let's not. Let's just say I have plans for it.
With four weeks and $100 to spend, we have to get pretty creative, but that's half the fun! Here's what we plan to do:
Paint the walls and do a fun wall treatment with polka dots
Makeover the ceiling fan
Paint the bed
Rearrange furniture
Reinvent the plain white curtains
Come up with a storage solution for the army of stuffies
Declutter!
That should keep us busy for a while! But with temps in the 100's outside, we're happy to spend a little extra time playing indoors.
Do you have a room that looks like this?
Follow the $100 Room Challenge by newsletter to get all the latest updates!
Or follow along on social media: Instagram | Pinterest | Facebook | Twitter
It's amazing what $100 can do for your home. Check out Erin's original post on the $100 Room Challenge for more details. Then go and see what these other amazing bloggers are doing with their rooms.
Finally, be sure to check back in for the next few weeks, if for no other reason than to see what to do about that brass monstrosity of a ceiling fan!