Our full kitchen remodel resources list, all the pretty pictures, and my favorite parts of this kitchen makeover project.
Hey guess what? We finished remodeling our kitchen, and we're still married! I call that a double win. If you've ever been through such a big home makeover project, you know what I'm talking about. If you're contemplating taking on your own project, don't worry, I'm sure you'll be fine. *wink*
We've known since we bought the house that we'd need to tackle our kitchen some day, but I waited as long as I could, both to save up money, as well as to come up with a solid design plan. I find it helpful to live in a space for a while in order to figure out how you want to use it. After 7 years and a complete kitchen cabinet painting project that I loved, it was finally time to start over.
Before – Our kitchen was doing the best it could.
As a reminder, here's what our kitchen looked like before:
(You can also check out my earlier kitchen design plan blog post to see more before photos.)
The cabinets were old and literally falling apart, shedding wood particles into my cookware. Painting them helped them look better, but they still didn't function very well.
The other thing that didn't function well in this kitchen was the counter space. Or lack thereof. For a decent sized kitchen, this one was seriously lacking in counter space.
I hated the way the fridge and pantry imposed into the small footprint, and several of the appliances had stopped working altogether.
It was time.
So we ripped everything out, including the soffits above the cabinets. We fixed some issues we found inside the walls, and added extra electrical outlets. (Can you ever have too many plugs in a kitchen?)
We moved the appliances around, and installed tall cabinets to add storage and capitalize on that soffit space.
Then we put in beautiful quartz countertops and a glossy white tile backsplash.
And suddenly (unless you count the 3 months of work), we had a brand new kitchen!
After – Such a Satisfying Kitchen Makeover!
It's amazing the difference you can make within the same kitchen footprint, just by moving some appliances and taking the cabinets up to the ceiling!
We created not only the illusion of more space, but also more actual, usable work space.
Here's the view from inside the kitchen toward the breakfast nook and living room.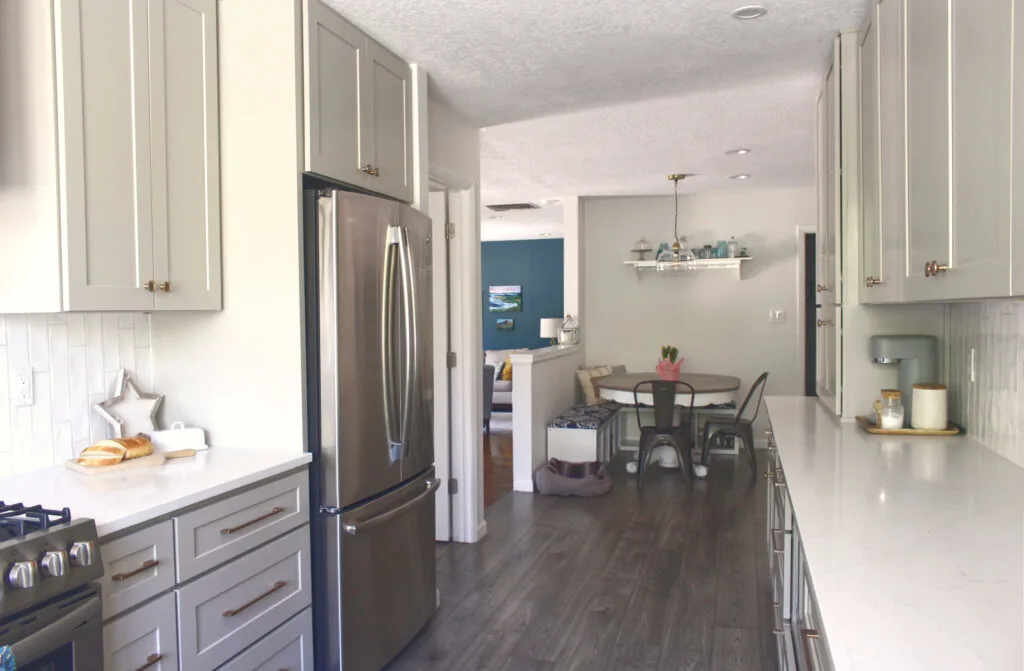 A Few of My Favorite Things in our New Kitchen
I love the miles and miles (ok, feet and feet) of unbroken countertop space. So many cookies can be made at one time!
I also love having mostly drawers in my lower cabinets. It's so easy to organize and keep all the tools right at my fingertips, rather than having to dig around on my hands and knees at the back of a cavernous cabinet.
This is a small thing, but I love having this tiny shelf over the stove to keep my salt, pepper, and cooking oil off the countertop and within reach. So efficient and cute!
Moving the fridge out of the way and putting the pantry at the front of the room also helped free up my workspace. Now people can come and go making drinks and snacks, without getting in the way of my dinner prep space.
But most of all, I love how bright and open it feels in here now. It used to be a long dark lonely kitchen, but now more than one person can be in here at a time, and the sun floods through the windows, especially in the afternoon while I'm making dinner.
Kitchen Remodel Resources
Here are the main pieces and parts of this kitchen remodel, in case you see something you like and want to bring home to your own kitchen!
This post contains affiliate links. If you make a purchase, I may receive a small commission at no additional cost to you.
Appliances:
Built In Range Hood. I'll share a tutorial soon on how we built our own range hood cover. After bumping my head (literally) on our old one for so long, it was important to me to have a new one that stayed out of the way.
Low Profile Slide In Gas Range. I have been so happy with this range since I bought it and started using it. It doesn't have too many bells and whistles, but it WORKS exactly like it's supposed to. And I love the look of the knobs being on the front instead of a panel on the back that obscures the backsplash.
Counter Depth Refrigerator. This was a must-have in our narrow kitchen, to save space and let more light flow through the room.
Under Cabinet Microwave. We decided to use a standard microwave in an under-counter cabinet, rather than paying $1,000-$2,000 more on a drawer microwave because I couldn't find one I really loved. This gives us more flexibility, and the ability to easily upgrade down the road when the prices either come down, or the reliability and design factor goes up. This one works great, but the real reason I chose it was because it fits the space the best.
Dishwasher. Not the most exciting part of a kitchen, but this one works so well I have kind of fallen in love. If I had to do it again (which hopefully won't be for a long time!) I'd probably opt for a similar, quieter version, like this one.
Pretty Things:
Cabinets: KCD cabinets in Shaker Sand color.
Door Knobs: I'm loving my matte champagne brushed knobs with a subtle inverted hexagon shape.
Drawer Pulls: These long matte champagne pulls are perfect for wide drawers, and the shorter pulls are just right for standard size drawers. I mixed the two, so the dimensions would be balanced. I'll be sharing a new tutorial soon, on how to install long drawer pulls.
Countertops: New Venatino Gray Quartz
Backsplash Tile: Artisan Frost Ceramic Tile
Backsplash Grout: Mapei 01 Alabaster Ultracolor Plus Unsanded Grout
Ceiling Lights: These 4 inch recessed lights are super easy to install and the light color is adjustable. We paired them with a dimmable switch to control the overall lighting in the kitchen.
Under Cabinet Lights: We haven't actually installed these warm LED lights yet, but they should be super easy so I'll get around to it one of these weekends soon!
Pendant Light: The pendant light over the sink is a combination of a basic pendant light fixture, with a really cool black and gold shade from Lowes. I thought this would be a fun and affordable way to easily update the light shade later if I want something different. But I love the subtle way the light plays through this shade so much, I can't imagine changing it!
Faucet: Matte Black Glacier Bay Paulina Single Handle Faucet
Kitchen Rug: This washable kitchen rug is perfect for high-traffic areas. I resisted putting a rug in the kitchen, but I felt like I needed a little color in here and this rug is the perfect blend of comfort, style, and durability. Plus it's really soft on my feet.
Before you go…
If you're thinking of taking on your own kitchen makeover, don't forget to check out my free kitchen remodeling budget worksheet, along with tips for saving money on your remodel, and 10 Questions to Ask Yourself before you get started, for help with planning your project.
Best of luck with your kitchen remodel, I'm off to make some cookies in mine!