Welcome to a special DIY tutorial! Today I'm teaming up with 9 other DIY bloggers to bring you an inspiring selection of Holiday Crate Makeovers. What's a crate makeover, you ask? It's where decorating meets organization, two of my favorite topics! We've each taken on the challenge to transform a plain wooden crate into something beautiful and useful.
When I think of the holidays, I think of decorating, baking, shopping for gifts, and making memories. What I don't usually think about is organizing. And since I don't think about it, my house ends up in a bit of a mess. This year, I've come up with a better plan, thanks to this Holiday Crate x10 Project.
One of my favorite activities this time of year is to curl up on the couch with my girls and a fluffy blanket, and read our Christmas books by the light from the tree. We have several beautiful story books, and I pack them away every year with our decorations, so they keep their special magic when we pull them out again. The problem is I need a place to display them, so they don't get scattered and lost when we're not reading them. This crate proved to be just the thing I needed to keep books and blankets handy by the couch.
Here's a look at how it started. Not very cozy, as my daughter would say.
But I knew all it needed was a little TLC, in the form of chalk paint, and we'd be good to go. (You can find crates like these at several home and craft stores. I got mine at Home Depot.)
First up, a little sanding. Chalk paint doesn't need much prep, but I did want to remove the extra chunks of wood so no one would get a splinter picking this thing up.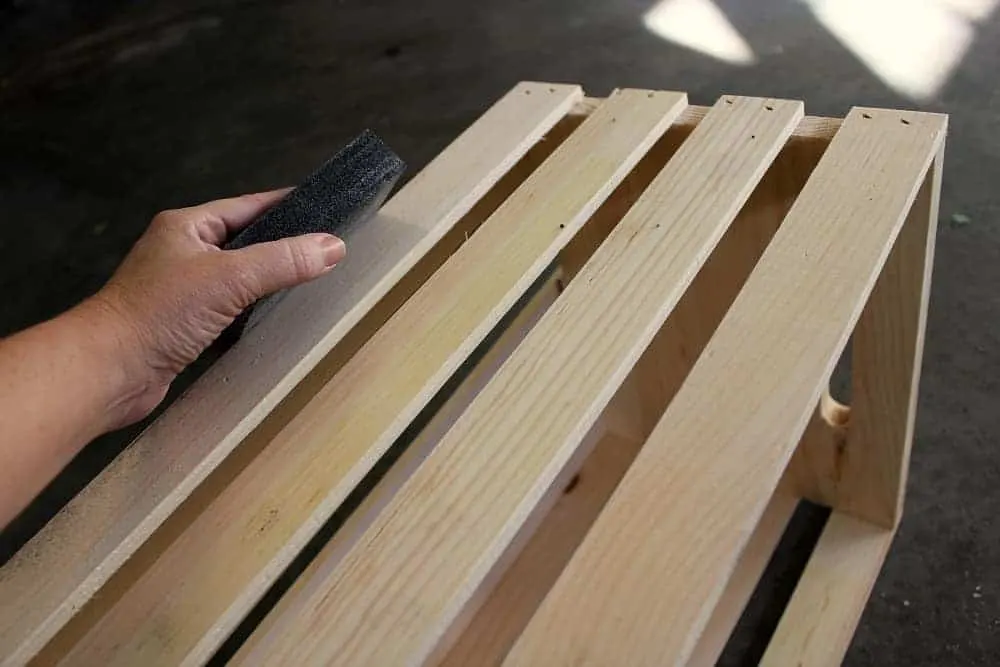 Next, a quick coat of DecoArt's Chalky Finish paint in "Primitive." I love this stuff because it covers anything, usually in one coat.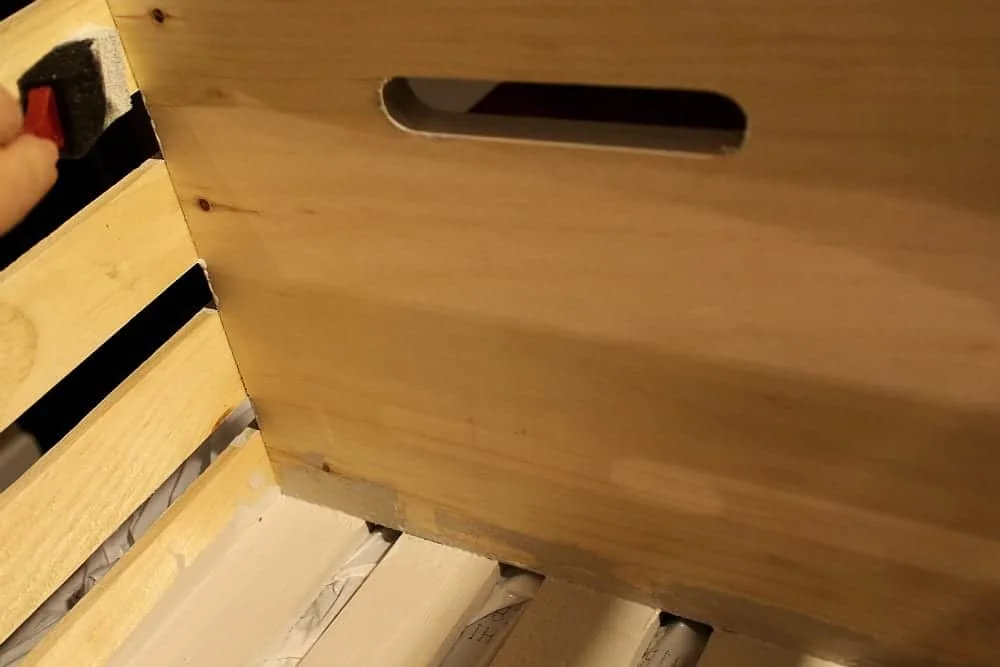 Now for a little decoration. I'm loving grain sack stripes right now, so I decided to add some in a cheery Christmas red. I started by taping off the stripes.
Hint: Once you get your stripes laid out the way you want, add a strip of tape to both ends. This will hold them together in their pattern when you peel off the tape after painting, so you don't have to measure out the pattern again on the other side.
It took a couple of coats of craft paint to get a nice dark red.
Once the craft paint was dry, I peeled off the tape, being careful to keep the pattern in one piece.
The handle looked a little lost, so I painted the inside red as well, and now it blends in nicely with the stripes.
I repeated this process on the other end of the crate.
Something was still missing, so I painted the tops of all the wooden slats, and the top edges of the crate.
Finally, I covered the whole thing with a good coat of dark finishing wax to age it a bit, and give it a nice soft sheen.
Now it's ready for blankets and books.
It fits nicely right next to the couch, but I hate to tuck it away in the corner. I may have to bring it out and set it next to the Christmas tree.
Time to make hot chocolate and curl up with a good book!
This is just one idea of how to style a crate like this. Check out these other talented bloggers' crates for more inspiration:
Carole @ Garden Up Green
Patti @ Garden Matter
Bon Bon @ Farmhouse 40
CD @ CD's Country Living
Nici @ Posed Perfection
Jami @ An Oregon Cottage
Val @ Love My DIY Home
Karen @ To Work With My Hands
You're next! what will you do with your holiday crate?