This Himalayan salt scrub is so easy to make, and it makes the perfect gift with these free printable labels. Get the recipe and labels here!
I've been a little obsessed with Himalayan salt lately. I mean, it's got it all… color, texture, and health benefits! What more could a girl ask for in a salt?
So when I recently bought a 5 pound bag of it because it was pretty, I realized I should probably come up with some good ways to use it. It seemed a shame to waste all that pretty pinkness in food where you can't see it, so I decided to make some into a salt scrub.
Now I can enjoy the health benefits and the pretty color, all while getting smooth skin!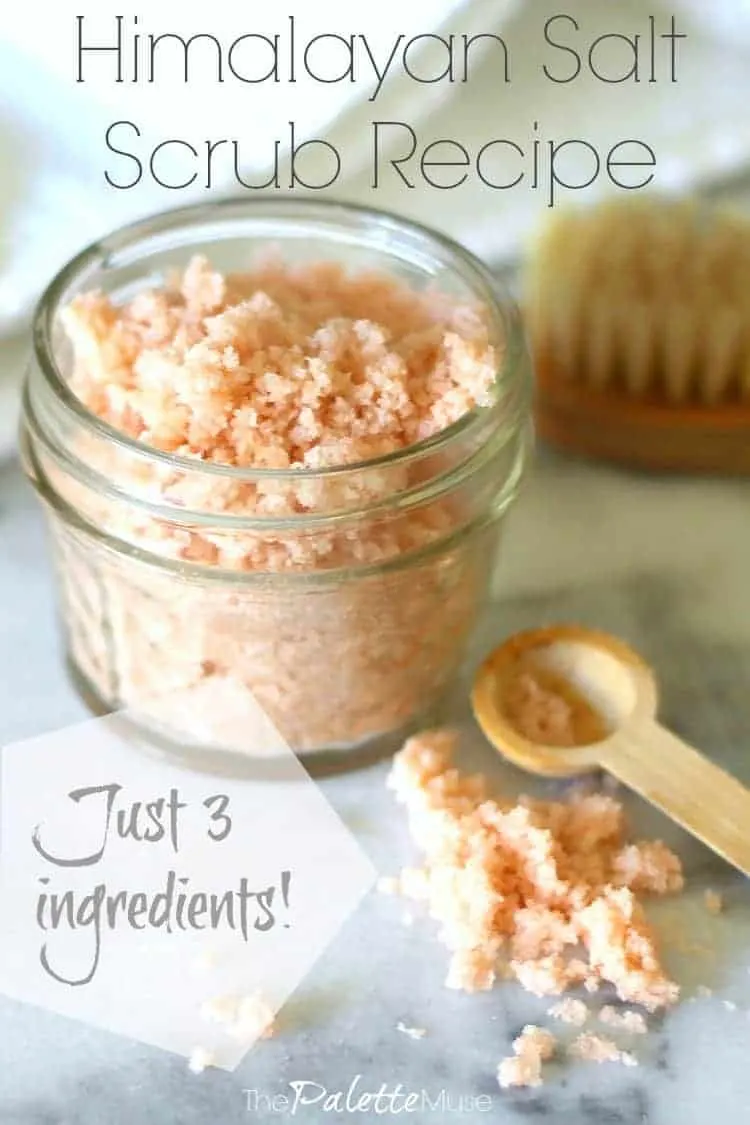 This post contains affiliate links. If you make a purchase, I may receive a small commission at no additional cost to you.
Benefits of Himalayan Salt
Himalayan salt is said to have natural detoxifying properties. The same 84 trace minerals (potassium, calcium, magnesium, etc.) that give it that pretty salmon-pink color are also good for all sorts of balancing, hydrating, and detoxifying processes in the body.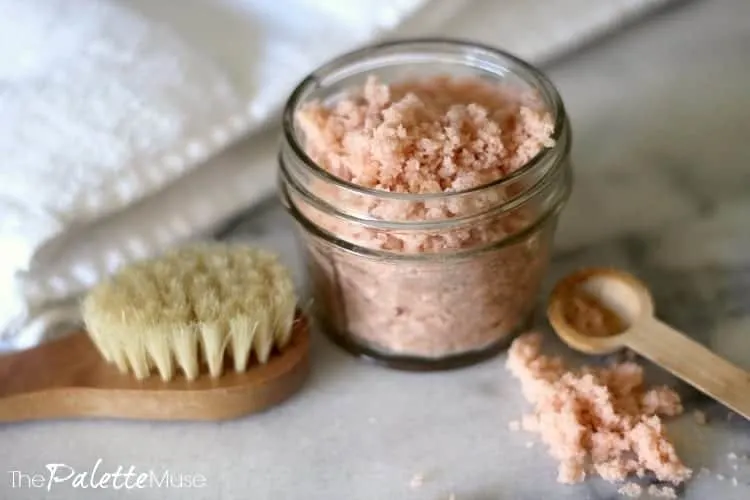 The jury's still out on whether any of those claims are scientifically true, but I figured it couldn't hurt to occasionally switch up my coconut oil sugar scrub with this new salt scrub. If nothing else, it's good to get a little variety in your diet/skincare routine, right?
How to Make Your Own Himalayan Salt Scrub
Before I show you how easy it is to make your own Himalayan salt scrub, I'll just admit up front that this is a shameless copy of my coconut sugar scrub recipe, just switching out the salt for the sugar. I figured if that recipe works so well, I might as well skip reinventing the wheel and get on to exfoliating the feet. (I prefer to call this particular character trait "efficiency" rather than laziness.)
Himalayan Salt Scrub Ingredients
For this salt scrub, you simply need three ingredients:
Himalayan Salt – finely ground
Essential Oil (even this third ingredient is sort of optional, but don't skip it because it's what "makes" the spa experience.)
DIY Himalayan Salt Scrub
The basic recipe for this salt scrub is 1 part coconut oil, plus 4 parts Himalayan salt, plus a couple drops of essential oils. For a small jar (perfect for gifting!), that means:
1 Tablespoon coconut oil
4 Tablespoons Himalayan salt
1-4 Drops essential oil
First, measure your coconut oil into a small mixing bowl. If it's warm in your house the coconut oil may be liquid, but when it's cool, the oil becomes solid. I feel like it's easier to mix when the oil is liquid, so I put mine in the microwave for a few seconds to liquefy it first.
Either way you can measure out a tablespoon and it will turn out the same in the end.
Then add your salt to the bowl. Using a fork, carefully mix the two ingredients together until the mixture looks light and crumbly.
Finally, squeeze a drop or two of essential oil on top and mix it in. Add more if needed to get the right scent. (You can use any oil or blend you like for this. I like "Cheer Up Buttercup" for its light, sunny scent. It's like happiness in a bottle.)
Voila that's it! That's all there is to making your own Himalayan salt scrub. Now if you want to go the extra mile and make a cute gift out of it, I've got a sweet little printable label for you.
Free Printable Himalayan Salt Scrub Labels
These labels are sized to fit the standard mason jar lid size, which fits the mini-jars, which make adorable gits. Simply print the labels on plain or colored paper, or even adhesive paper, cut out around the outside of each label, and put the label inside the lid cover.
Get Your FREE PRINTABLE SALT SCRUB LABELS!
Sign up for The Palette Muse Newsletter and get access to all my free printables, including this one!
If you're already a subscriber, click over to the Free Printables Library to find the download. You'll need the password at the bottom of any of my emails.
These would make cute little gifts for Valentine's day for teachers, or friends who like to garden, or yourself who likes everything in cute containers. Oh wait, that's me. Well, I'm sure lots of other people like cute containers too!
I'd love to hear what you think about Himalayan salt or this recipe. As always, let me know in the comments below if you have any questions. Happy Scrubbing!