Fun FAQ's – Double Barn Doors
Because sometimes a DIY tutorial raises more questions than it answers, I thought I'd spend the month of February going back and doing a series of Frequently Asked Questions posts about some of my most popular DIY projects.
Now that it's halfway through March, I'm finally ready to finish the last post in the series! So, what I intended to call "February FAQ's" has now been changed to "Fun FAQ's" because FAQ's are really year-round, and also, I can't stick to a schedule to save my life.
(If you haven't already, check out the updates on my kitchen cabinet makeover, my concrete countertops, and my lighted headboard.)
Anyway, today's post is all about my barn doors. This was one of my favorite projects, in terms of maximum impact with a manageable amount of work. Today's FAQ's are all in response to the Barn Door post I wrote a few months ago.
I won't go into the details of the tutorial here, but I do want to answer the questions that I've heard since then, as a companion piece to the tutorial. If you haven't read the tutorial yet, start there and then come back here.
~ This post contains affiliate links. If you make a purchase, I may receive a small commission at no extra charge to you. Thanks for supporting The Palette Muse! ~
Double Barn Door Installation Frequently Asked Questions
First, if your question is "Where do I get those barn doors?" here is the link to the same door that I used. Now let's dig right into the FAQ's.
Do I need to buy a double door kit, or can I put two single doors together?
You can definitely put two single doors together! That's what we did and it worked out great. The only thing is you need a way to account for where the doors meet in the middle. We wanted ours to stop in the middle, so we did not buy a track joiner.
A track joiner simply allows the rollers on the doors to glide smoothly over the small gap in between the header rails. I wanted these doors to stop in the middle, so we used the included door stops. Read on to the next question for more info about that.
How do you close the gap between the double barn doors?
The door stops that come with the hardware are meant to be used on each end of a single door, to keep it from running off the rails when it's opened or closed too hard. However, you can't just install the stops on the middle of the header rails, or they will leave an opening of about an inch between the doors.
I feel like the hardware companies should have solved this problem by now (and maybe they have by the time you're reading this) by offering an optional part that is like two stops fused together, but I wasn't able to find such a thing, so we made our own by modifying the door stops with a saw.
I outlined the process in the original tutorial, so be sure you check it out if you're converting two single barn doors into a double. Here's how it looks close-up:
We've been using the barn doors happily for months now, and this fix has stood the test of time and rambunctious children!
Do they swing out from the wall when you're opening/closing them?
No, there is a small guide that runs through a groove in the bottom of the door. Mine is attached to the wall, but if your doors are flush with the floor (as probably most are) the hardware kit also includes a floor-mounted guide.
This keeps the door from swinging in and out as it rolls, and possibly damaging the door or baseboards or wall.
If you are converting a standard door to a barn door, I'd recommend routering a groove in the bottom of the door rather than letting it swing free. (To me, that's kind of a major DIY project, so I recommend buying doors that are already meant to be barn doors so you don't have to take that extra step.)
Can you attach handles on the other side of the doors?
As far as I know, there is no standard answer to this question. You can't install regular handles onto the backs of the doors because they will hit the door frame and wall when they open. We've found that it's super easy to gently slide the doors open from the inside, and no handles are necessary.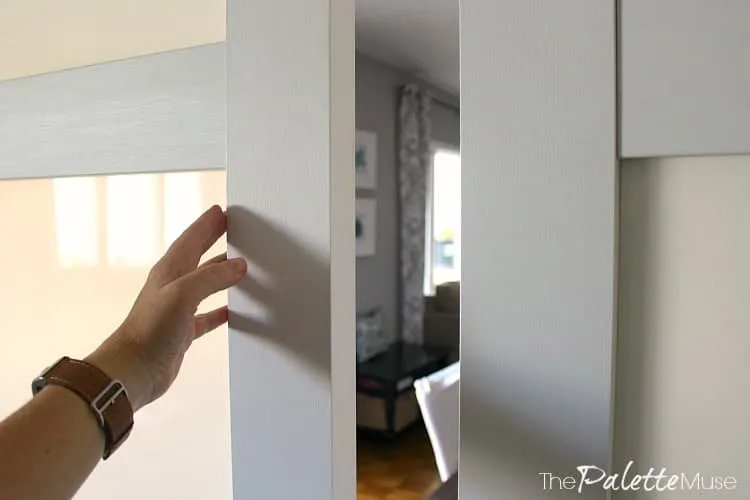 Can you attach a lock?
One of my readers wanted to install a barn door in her bathroom and asked both the handle and the lock question. While I didn't have a good answer for either, I had another reader recommend a pocket door handle and lock to solve both problems.
I think that's a great solution, but just make sure that your door will allow for the installation of such hardware. This will require routering the holes into the doors, so I'd make double sure that you know what you're doing before trying this route.
Update: here is a new barn door lock set that is made for this exact purpose!
Otherwise you could install a simple hook and eye latch, but just be aware that once the lock is locked from the inside, there's no real way to open it from the outside, which might be a hazard if you have kids who may lock themselves into the bathroom. (I speak from actual, frustrating, experience but that's a babysitting story for another day.)
What color are your walls?
What a fun question! They are Gray Owl by Benjamin Moore. When the doors are open, it looks like the glass is clear because it just happens to be the same color as the walls behind it.
What keeps the doors from jumping the tracks?
The door hardware has stops on both ends, as well as a little stop on top, so no matter how hard you close or open the doors, they won't jump their tracks or fall off the ends. This is why I think it's better to buy a good brand of barn door hardware, rather then trying to build it yourself.
Is your thermostat impaired by hanging the door in front of it?
We were planning on moving the thermostat that hangs on the wall right behind the left door because we assumed it would lose its accuracy being in that small space. But then we didn't get around to it immediately, and soon found that we didn't need to.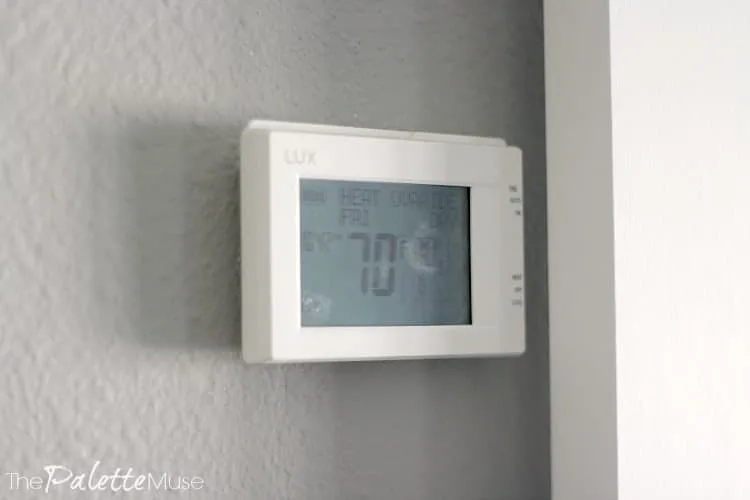 The temperature didn't seem to change at all, either in summer or winter. I guess it gets enough airflow back there to still get a good reading.
We do have to slide the door closed to access the panel, but our heating and cooling is set up on a schedule so we don't need to use the panel much. Now we plan on leaving it right where it is.
Do they slide easily?
These doors are a dream! They are so quiet and smooth when they open and close that someone in the next room wouldn't even know it was happening.
Do they cut down on noise?
I feel like these doors definitely help cut down on the TV noise from the den, and we like to hide in here and close the doors when my daughter practices piano in the other room. (Don't tell her I said that!)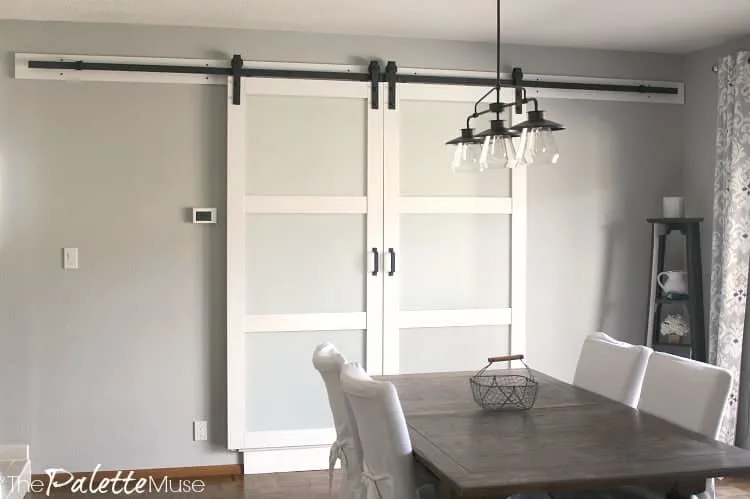 They probably don't cut down on as much noise as regular doors that fit in a door frame, but they sure help!
In case you're wondering, here's how they look from the other view, in our family room.
We've been so happy with our barn doors, both for how they look and for how they operate. If you're ready to start your own barn door project, here's what you'll need.
Double Barn Door Resources
2 sets of barn door hardware plus doors – measure the width of your door opening to be sure you order the correct size rail. Each rail needs to be at least twice the width of your door opening. Here are the actual doors I used (I bought two sets and hung them side by side).
Saws-All – this isn't listed in the instructions, but we needed it for modifying the rail stops so the doors would meet in the middle
Cabinet Mounting Screws or Wood Screws for attaching the header board to the wall. These were the only screws not included in my hardware kit, and I chose to use this style with the wide black head to add to the farmhouse style of the hardware. You could also use regular wood screws and paint the heads to match your header color.
Centering ruler – I use this thing for all kinds of crafty projects, but this is my favorite use so far!
Measuring tape, pencil
I know this seems like an intimidating list, but you may already own some of these tools. The whole project took us a couple of days, but that's because we found it easier to break it up into smaller segments, rather than trying to do it all at one time.
It's not a small endeavor, but the end result is so worth it. I'm just a normal girl with a pretty handy hubby, so I know if we can do this you can too! Also, be sure to go check out the original Barn Door post for lots more info.
I love hearing your questions! Please let me know in the comments if I've missed something you're still wondering about these double barn doors.
In the meantime, here's a quick recap of tips for hanging your barn doors:
Tips for Hanging Double Barn Doors
Yield:
One set of Double Barn Doors
Difficulty:
Moderately Difficult
You can easily create double barn doors out of two sets of single barn door hardware. No need to buy fancy double sets! Here's a few things to keep in mind.
Materials
You can either buy two complete barn door sets (see below for the doors we used), or you can buy two sets of hardware and two door slabs.
I also recommend installing "soft close" kits on your hardware. Then you don't have to worry about anyone slamming the doors!
Tools
Instructions
First, be sure you have enough room for barn doors! You'll need at least as much space on the outside of the door as on the inside, to allow room for the door to slide out of the way. For double barn doors, you'll install two full sets of hardware, centered in the middle of the door opening.
Once you've bought the correct size door and hardware, open the package and make sure you have all the right pieces. Gather your tools so you're not climbing off your ladder to find a screwdriver in the garage.
Familiarize yourself with the instructions. Keep in mind that one of the doors will be hung as a mirror image of the other, so keep this in mind while reading instructions.
Take your time making measurements and markings!
Your laser level is your best friend! The key to barn doors that operate well is getting them exactly level. Hang your laser level on the opposite end of the wall from where you'll be working, so your hands don't get in the way of the beam.
Get a buddy to help you with the actual installation. There are some parts that seem to require more than two hands.
You can modify a door stop (included) to cover the gap between rails, if you prefer a seamless look. Or you can get a track joiner if you want the doors to be able to slide to either side.
Install the soft close mechanisms before hanging the door slabs. (This step may not be included in your hardware instructions if you bought them separately.)
Use the included floor guides to keep your doors from banging against the wall or door frames!
Recommended Products
As an Amazon Associate and member of other affiliate programs, I earn from qualifying purchases.