Painting bookshelves and cabinets in my den is one of the foundational pieces of this room makeover.
It's already week three of the $100 Room Challenge and I'm working my way through this living room makeover! I've gotten my closet doors done, and this week I (mostly) finished painting my bookshelves and cabinets. Today I've got a few tips for you if you're thinking of painting a bookshelf.
For these shelves and cabinets, I used basically the same process as I did with the closet doors last week, but I added an extra step of sealing the shelf tops with Polycrylic, to protect the paint from books sliding in and out of the shelves.
If you're just joining us, check out Week 1 and Week 2 to see where all this is coming from.
~ This post contains affiliate links. If you make a purchase, I may receive a small commission at no extra charge to you. ~
$100 Room Challenge – Painting Bookshelves and Cabinets
I love this built-in bookcase.
They hold so much stuff! And they must have been gorgeous back in their day when dark stained oak was the height of home fashion. I believe in salvaging as much of a home's character as possible, while adding in all the updates you want, so painting these built-ins seemed like the way to go in this case.
I used the same paint color, Valspar's Ashen Gray, that I painted the closet doors to tie the whole wall of built-ins together.
Before I get started, if you're planning on painting a lot of cabinets, like in your kitchen, I recommend following the steps in this kitchen cabinet painting tutorial, where I outline lots of helpful tips to keep you sane during a kitchen remodel. If you're just doing a few, or a bookshelf like mine, read on!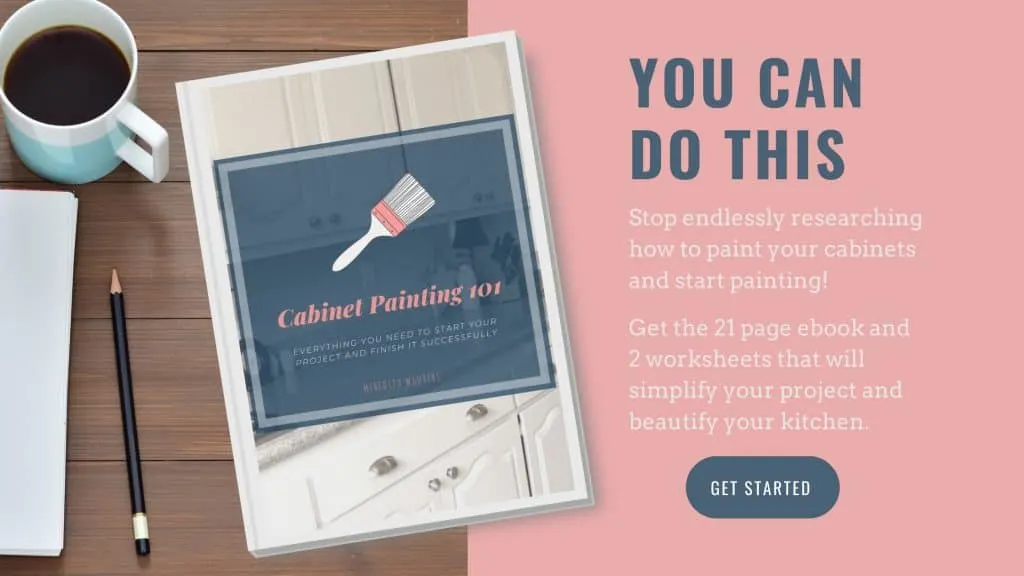 Painting Built-in Bookshelves
First I removed all the actual shelves and put the little pegs in a ziploc baggy for safekeeping during this process. I did not remove the cabinet doors yet.
Then (after dusting and cleaning well) I covered everything in a coat of Kilz Premium primer.
Once the primer was dry, I used my 6″ foam roller to put on a coat of paint. Then I went back with my smaller brush to fill in all the edges and trim.
I know it may be unconventional, but I find it easier to put the first coat of paint on cabinet doors while they're still attached to the frames. Then, once that coat is dry, you can remove them and touch up the spots you couldn't paint before.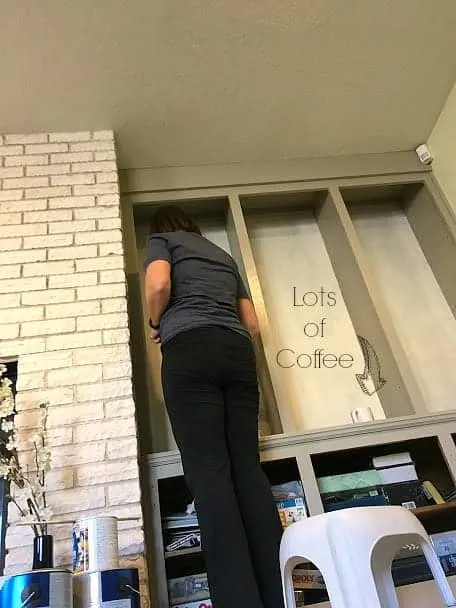 Again, as with the closet doors, I found that one coat of paint worked great, but you might need more depending on the colors you use.
Pro tip: several thin coats of paint work better than a thick coat!
While the frames were drying, I followed all the same steps for the removable shelves. I set them up on two boards suspended on sawhorses in my garage and just went to town, assembly line style. It was kind of fun, after all the tedious edging and trim painting of the frames.
(Don't look too much at the condition of my garage. A lot of life happens out here.)
Sealing Bookshelves to Protect the Paint
Finally, I used Polycrylic to seal just the top of each shelf, and the ledge on top of the cabinets. Adding a top coat of acrylic sealer on the flat surfaces of the bookshelves will give me the best results in the long term, since that area may get lots of wear and tear from pulling books off the shelf and moving items around on it.
The easiest way to get a good finish with Polycrylic is to paint it on quickly with a roller, then use a soft dry paint brush to lightly drag through the wet sealant. This will take out all those little bubbles you get from the roller and leave a nice smooth finish.
While the doors were off, I took the opportunity to finish cleaning out and organizing the cabinets. How did all this stuff come from this small space?
With the clutter cleaned up, these cabinets look way better, even before the doors got reattached!
As you can see, I painted the backs of the book shelves white, which will make more sense next week. Stay tuned…
The last step was to reattach the doors. I decided to save money by just using the same hardware. Although the hinges are dated, you can hardly see them.
I need to get some pads to keep the cabinet doors from rubbing on the frame, but in the meantime I used wax paper wherever the painted surfaces touch each other to keep the paint from sticking as it cures. What do you think? Should I add pulls?
Let's Talk about What Type of Paint to Use on Bookshelves
What is the best paint to use on a project like this?
As I mentioned, I painted these bookshelves with latex paint because I had some leftover from a previous project and this is, after all, the $100 Room Challenge so we're working with a very limited budget. But I don't normally recommend latex paints or acrylic paint for cabinets or furniture.
I will always recommend an enamel paint product like Valspar's Cabinet and Furniture Enamel or DecoArt's Satin Enamels. They hold up better on wood and are easy to clean up, unlike oil-based paint. For more on painting furniture or kitchen cabinets, check out my full cabinet painting tutorial.
We're getting close!
I don't have a complete photo of the finished product with the doors and cabinets matching now because there are a few more changes I want to make first before I give it away. But this old bookcase already looks way better and changes the whole feel of the room. You'll just have to be a little patient to see what I'm talking about…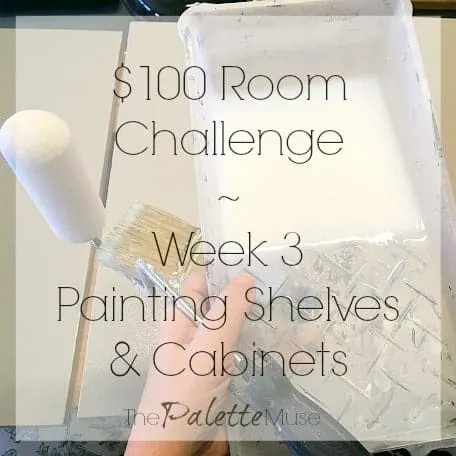 In the meantime, check out my other blogger friends' progress on their $100 Room Challenges!