I recently finished a really neat remodeling project with a client that I want to share with you because she made some great choices that might someday help you if you're considering a kitchen/living area remodel.
My client was on a budget (as most of us are!) and was trying to get more usable space out of her kitchen and living areas. She was also looking for more light and better sound control, especially when the kids were watching TV or playing video games.
We slightly moved a few walls to close in the smaller TV den and open up the kitchen to the main living area. This gave her much more sun bouncing around, and much less noise bouncing around!
In these pictures you can barely see the difference in where the walls ended up, but you can really tell the difference in the amount of natural light and open space.
Before, her kitchen was cramped and felt shut off from the rest of the house.
After, the whole family has room to gather and move freely around the island, and she can see and talk to anyone in either room from the kitchen.
Moving the refrigerator and taking down the walls that enclosed the kitchen made a huge difference, both in space and in sight lines. We were also able to gain a better, more functional layout for her work space in the kitchen.
Storage had been a problem for a while, with awkward cabinets and a small pantry. We added another pantry, and outfitted both with fresh frosted glass doors that tie in nicely with her new stainless steel appliances. Functional and pretty!
We were even able to squeeze in a desk space just outside the flow of the kitchen, but still within easy reach to be able to sit down and write emails and keep up with the family schedule.
She chose these amazing wood tiles, so that she wouldn't have to worry about spills and water damage, and we carried them throughout the kitchen and living room, to unify the spaces. I have serious floor envy over these tiles!
Here are a few things to consider if you're planning your own kitchen makeover: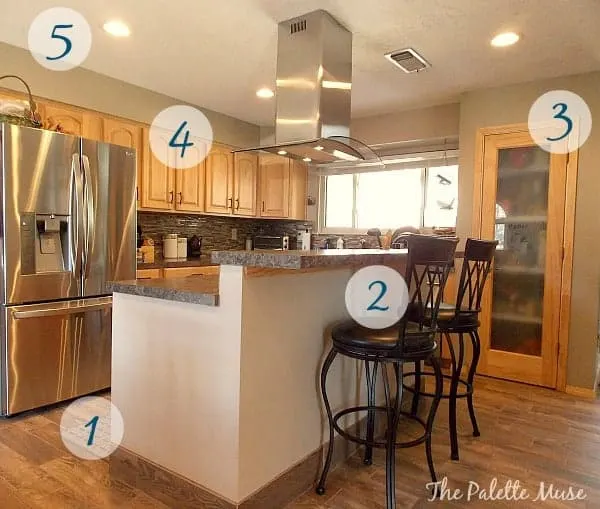 Kitchen Makeover Tips:
Consider your flooring options. Porcelain wood tile now comes in many beautiful and realistic looking styles and is available at most flooring stores, as well as Home Depot and Lowes. Stick with a mid-tone grout color for a more realistic look.
An island with oven and cooktop pulls you out of the corner and allows you to face your family and guests while cooking. If planned correctly, it can help your work space flow more naturally.
Add closed storage. This frosted glass door conceals the mess behind, but still adds great style to the room.
Use what you have, if possible. My client saved hundreds, if not thousands, of dollars reusing her existing cabinetry. She was able to put the money into a fabulous backsplash and new countertops.
Lots of lighting! Adding can lights to this kitchen really brightened it up. There are also lights on the new vent hood and a new light over the sink. However, it was the removal of the walls that really allowed the natural light to flood through this kitchen from both sides of the house.
Finally, no makeover is complete until my clients are fully satisfied. I'd say these little guys approve of their sunny new spot!
A kitchen remodel can be a daunting proposition, but with some careful planning, it can make your whole house function better and seem brand new, not to mention adding to your property value! This remodel took less than 5 weeks, and now the whole family enjoys their new spaces. Have you ever considered taking on a kitchen remodel? What are you looking for in a kitchen?