This easy DIY gingerbread house banner would make a great holiday party decoration, Christmas tree garland, or window hanging to make your space more fun and festive. With easily accessible and inexpensive materials, it's the perfect crafty project for the holiday season!
I love garlands and banners. There's just something so fun about draping something crafty around your house. It can be temporary or permanent if you wish. And the sky's the limit as far as how fancy or crafty you want to get with them.
So in honor of the approaching holiday season, I'm bringing you this fun gingerbread house banner. It only needs paper, scissors, string, and chalk and you can make it in just an hour. Or you can make some hot chocolate and get your kids involved and then who knows how long it will take?
This post contains affiliate links. If you make a purchase, I may receive a small commission at no additional cost to you.
Gingerbread House Banner
Let me first start by admitting that there's no substitute for actual gingerbread houses, and I highly recommend you spend some time this season making one of those too. But for our purposes today, no ginger will actually be necessary. Feel free to light a holiday-scented candle to compensate.
Banner Supplies
The basic idea for this banner is to cut craft paper into gingerbread house shapes and decorate them with chalk, then string them together to make a banner.
You'll need:
My free printable gingerbread house template – see below for details on how to access yours
Brown Craft Paper – I was able to find a poster board sheet at Hobby Lobby. If you can't find that, they also sell brown card stock in the scrapbooking section which is basically the same thing, just a little more expensive.
Pencil
Twine or Jute String
Chalk or Chalk Markers
Cotton Balls and glue (optional)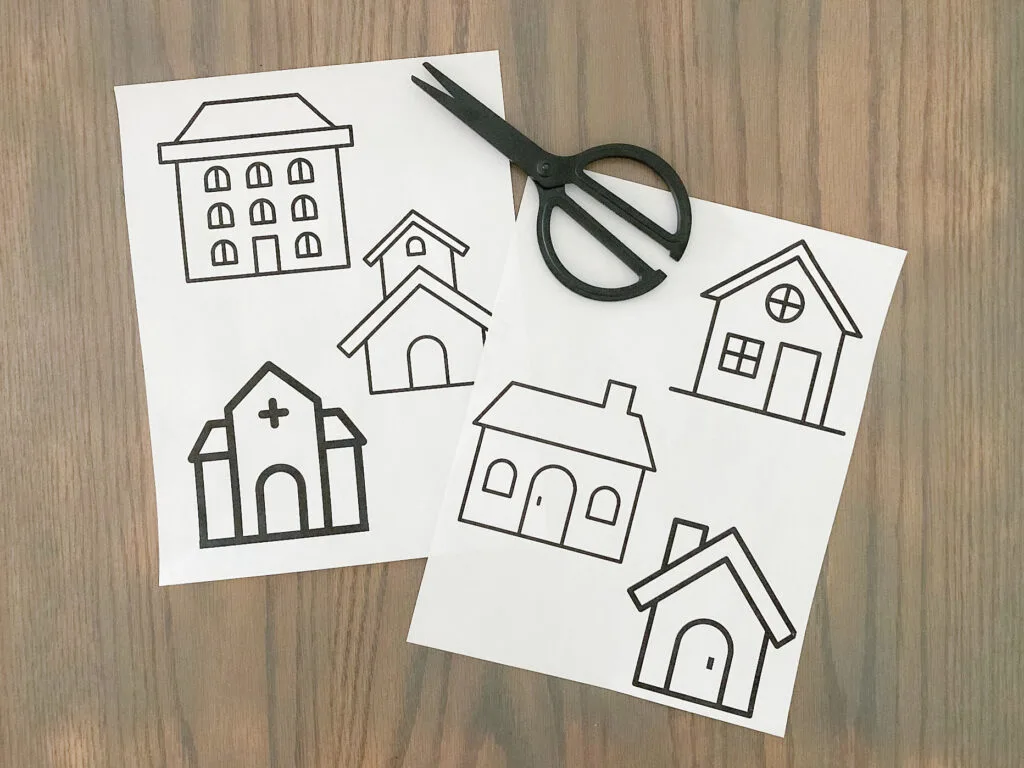 How to Make your Banner
First print your template. Cut around the outside lines of each house shape to separate the different houses.
Then lay each house on your craft paper and trace the outline with a pencil. Hang onto the template houses to give you ideas later for decorating your gingerbread houses.
Use your scissors to cut out the house shapes you've traced on the craft paper. Repeat as needed to get enough houses to make a long enough banner to suit your needs.
With the hole punch, make two holes in each house shape, toward the top outside edges.
With your chalk or chalk marker, decorate your gingerbread houses however you like. You can use the lines on the templates to give you ideas about where to draw in windows, roof lines, and doors, but feel free to use your imagination!
Thread your string through the holes in the houses. (Check out my easy trick for stringing through the holes.)
You can glue small cotton balls along the string as well to give your banner the feel of wintry snow flakes. (Although mine turned out looking more like fluffy clouds in the sky between house roofs.)
Banner Tips and Tricks
You can also use paper grocery bags instead of card stock if you're really trying to save money. (School teachers, I'm lookin' at you!)
Try chalk markers for brighter white colors on your craft paper. If you don't have chalk markers, white paint pens work the same way. (In this photo you can see I switched from chalk (left) to chalk markers (right) after decorating a couple of houses. I like the bright white of the chalk marker better.)
You could also use color markers if you want a more colorful banner, like a traditional candy-filled gingerbread house.
Punching holes at even distances from the top of each house (say a half inch) will give you a more uniformly hanging banner.
Use my handy trick in this post to turn your string into a needle for easier threading.
Try using tiny LED string lights for a light-up version.
Some of these house shapes might be a little difficult for smaller hands to cut out. If you are doing this craft with young children, you might want to precut the shapes and just have them decorate the houses and string the banner. Or you could only use the simpler house shapes.
Try a New Holiday Tradition Today
We have a sweet neighbor named June who hosts a gingerbread-house-making party every year. She invites all the neighborhood kids over to decorate graham cracker gingerbread houses. She assembles the houses the night before and supplies mounds of candy and icing. It's like a sugar wonderland, and the kids have a blast.
I don't know where she gets the energy and patience to deal with so much sugar, icing, and crumbs all over her house, but she's a saint and the kids love her. They look forward to making gingerbread houses at June's every year.
And to make it even better, she takes a picture of each kid with their creation and saves them in photo albums. Her albums stretch across at least ten years by now, and you can see each neighborhood kid growing up, along with their creativity as the kids get better at their icing and decorating skills.
(I think my kids' main goal in decorating their houses is to cram as much candy onto them as possible, so they can eat the pieces off over the next few weeks.)
I don't have the patience to start a neighborhood-wide tradition like Miss June's but it does make me think about the traditions I want to carry on with my family. What could we do tha's a fun way to spend time together and make memories? It's a question I ask myself every year while marveling at the kids working on their gingerbread houses.
I hope this crafty gingerbread house banner gives you a new option for starting a holiday tradition with your family!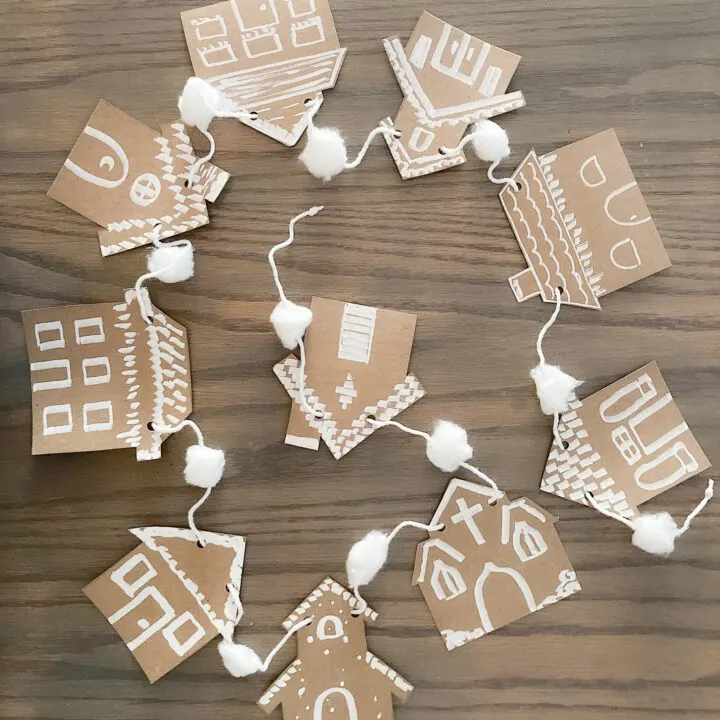 Gingerbread House Banner
Difficulty:
Easy - no experience necessary
This cute little craft paper gingerbread house banner makes the perfect garland for your Christmas tree or holiday decor. With just a few supplies, you can easily make your own.
Instructions
Print out your template by following the instructions in the link above.
Cut out the houses on the template.
Trace the outline of each house on the craft paper with a pencil and cut out. You may want to do multiple copies of each house to make a long enough banner.
Use the hole punch to make two holes near the top of each house shape.
Color your gingerbread houses using the chalk marker. You can make any designs you like, or use the lines on the template houses to give you ideas.
Thread the twine through the holes. (Front to back.)
Optional: glue cotton balls onto the string between the houses for added embellishment.
Notes
If you don't have chalk markers, chalk works too. They will look a little more vintage and details will not be quite as bright.
You can also use paper grocery bags instead of card stock if you're really trying to save money.
Try to punch the holes at the same distance from the top of each house to keep the size of the banner uniform throughout.
Recommended Products
As an Amazon Associate and member of other affiliate programs, I earn from qualifying purchases.