Phase Three: Cabinet Doors and Drawer Fronts
Now's the time to set up shop in your garage, if you have one. Otherwise you can do the doors on your kitchen table, but I would definitely suggest sanding outside if possible.
Remove the knobs and hinges from the cabinet doors. (I collected all my hinges, screws, and knobs in a big bag, since they were all identical. Come to realize later that the hinges were all adjustable and had been fine tuned to hang the doors at the right levels. So when I re-hung them I had to go back and readjust all of them. I'm still not convinced there was a better way, though. To label each hinge would have been just as time consuming as adjusting them all at the end.) Move the number label into the hole where the hinge was so it doesn't get separated from the door, making the whole labeling step a moot point.
Remove the knobs from the drawer fronts. I removed the drawer fronts too, and replaced the drawer frames back in the kitchen. You may not be able to remove the drawer fronts, but you can just work around them.

If you've removed your baseboards, include them in all the steps below.
Clean each surface with Krud Kutter. You do not want to be grinding all that cooking residue into the wood when you sand!
Sand everything with 100 grit sandpaper. In phase two above, I recommended hand-sanding the frames with a block, but for the doors I recommend an orbital palm sander. There is just so much surface area that it would take forever to do every inch by hand. And if you're outside or in your garage, you don't need to worry so much about the mess it will make.
Repeat steps 7-15 from Phase 2 on the doors. See below for a tutorial on Drip-Free, Mess-Free Cabinet Doors.
Once the paint is fully cured, for at least a day or more, you can replace your drawer fronts, baseboards, and doors. If you have adjustable hinges like mine, I recommend replacing the doors in sequence so you can adjust them together as you're hanging them. Be sure to attach felt pads to the inside corners of the doors, so that no painted surface comes in contact with another painted surface. If this happens before the paint is fully cured, they will glue together and strip off the paint when you open the door. More trauma!
Finally, replace all the knobs and kitchen staging items, and stand back and be impressed with yourself. You did it!
Drip-Free, Mess-Free Cabinet Doors
The best way to avoid drips on your painted surfaces is to avoid gravity altogether. But since gravity is one of the things that makes life on earth possible, avoiding it is probably beyond the scope of this project. Instead, we're going to work with it, not against it. Ideally, I would have liked to paint all my cabinet doors on a horizontal surface and leave them there to dry, but since I don't have that kind of space, the best I could do was paint them horizontally, let them dry for a little bit, then stand them up vertically to finish drying.
I did the backs and the bottom edge first, which gave them enough time to dry to the touch before flipping them over and doing the front. Doing the bottom edge first also gives it time to dry before you stand the door up. Make sure you have space to lean all the doors against the wall, and not touching each other. No matter how dry the paint feels to you, if you put two uncured paint surfaces together they will leave marks and strip paint.
The other secret to avoiding drips is to not overload your brush or roller with paint. If you use the right amount of paint, it will adhere to the surface, rather than dripping off it. That's easy enough to do on the flat surfaces, but when you get to the junctions, you can end up with extra paint pooling in the corners. I like to take my used roller (with no extra paint added) to go back over the areas I did with a brush, just to pick up any extra paint. It's best to start with the lowest surface and work your way up to the highest.
That's all there is to it! Easy, right? Did I miss anything? If so, leave me a question in the comments and I'll be sure to answer it. In the meantime, check out a few more "After" pics…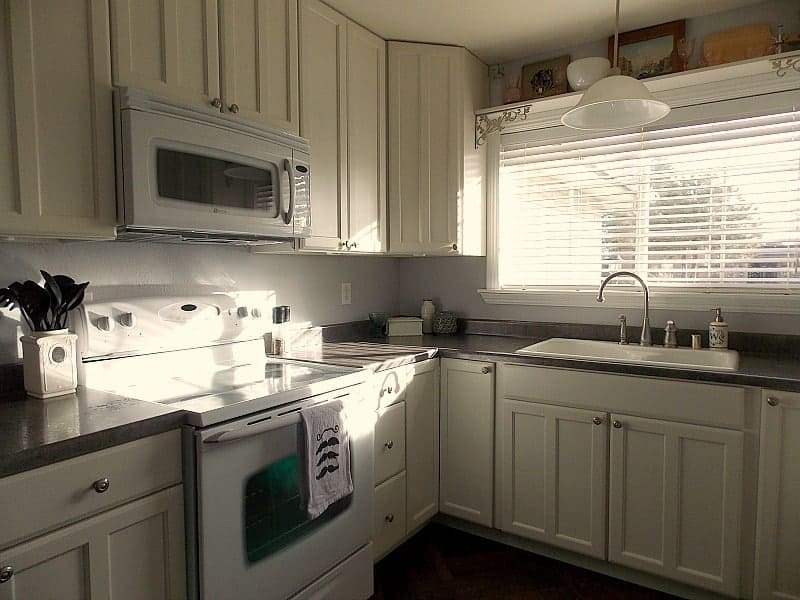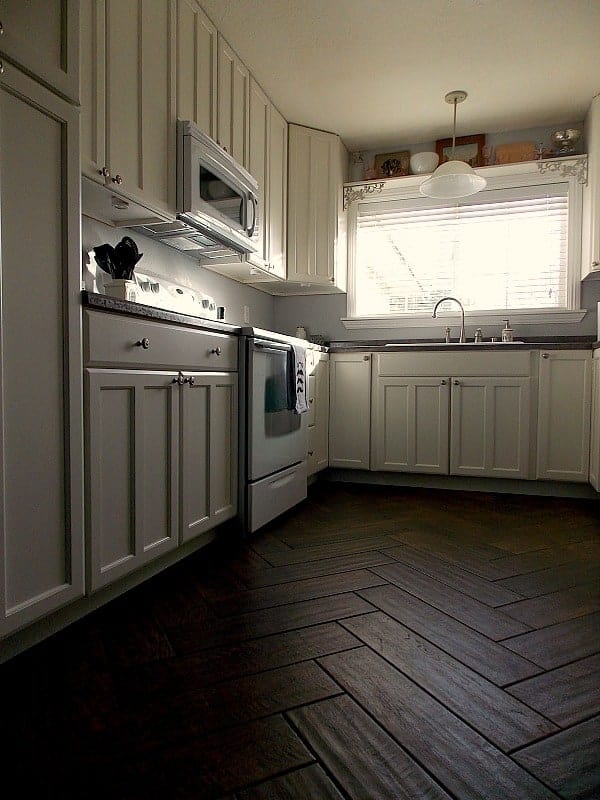 Thanks for hanging in there with me through this project. I'd love to hear what you think, especially if you have any questions about painting your own cabinets!
And once again, so you don't have to scroll back to the beginning, here is your…
Kitchen Cabinet Painting Supply List: