Have you been thinking of painting your kitchen cabinets, but can't stomach the thought of all the mess, upheaval, and general mayhem that goes along with such a big project? Then I have good news for you!
Now there's an easier way to paint kitchen cabinets, without destroying the heart of your home in the process.
(THANK YOU to DecoArt and D. Lawless Hardware for providing supplies for this project!)
The Absolute Best Way to Paint Kitchen Cabinets
You may remember I already wrote a post on the "right" way to paint your kitchen cabinets, otherwise known as the world's longest kitchen cabinet painting tutorial. After I published my original post, the question I heard most often was "Is there an easier way?"
Well, because I love you guys, I set out to answer that question. I had to buy a new house with ugly dark outdated oak kitchen cabinets, just to satisfy your curiosity. It was a sacrifice, but one I was willing to make. Just for you, my dear readers.
So now, after trying out a new product and a completely different process, I have the new and improved "best" way to redo your kitchen cabinets.
What makes it the best, you ask? It's faster, easier, and with WAY less mess. My previous process still works well, but if you're wanting a quicker turnaround, this will be the process for you.
Update: After living with my cabinets for several years, I've found that this new easier way holds up just as well as the previous method. So there's no reason to feel like you're taking a shortcut. I can definitely say this is my favorite way to paint cabinets now!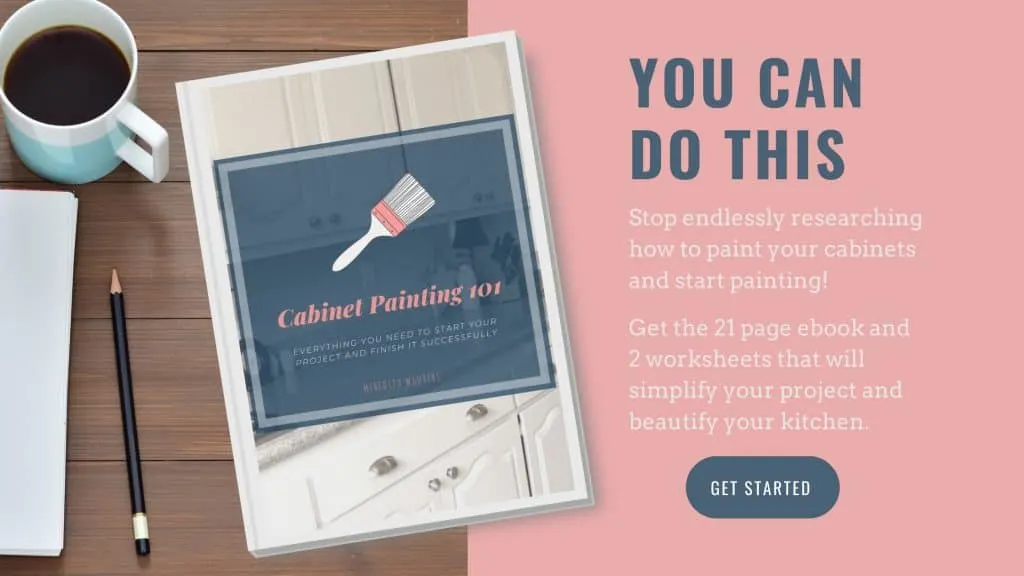 DecoArt Satin Enamel Cabinet Paint
In the past, if you wanted to paint cabinets or furniture, you had to strip, sand and generally kill yourself getting a good surface ready to paint on. Now, with DecoArt's Satin Enamel paints, you don't need to do any of that. Simply clean the surfaces, prime if needed (we'll talk about that in a minute), and paint.
Kitchen Cabinet Painting Hack
That sounds great, but here's the really great part… since you're not sanding, you don't need to remove all your items from your cabinets. That, my friends, is the key to making this project easier.
You don't have to change anything about the way your kitchen functions until you're almost done with the whole process. No more pulling everything out of your kitchen, then hunting through piles on your living room floor for that pan that you need to make dinner.
Everything stays in place, and you can cook dinner every night, after working on the cabinets during the day. (Oh wait, that doesn't sound good at all. Let's just say you could cook dinner, but don't tell your husband that, and make him take you out for dinner.)
New Cabinets in 7 Steps!
Here's the actual step-by-step process.
Clean cabinet doors
Prime cabinet door fronts and edges, if needed
Paint cabinet door fronts
Remove cabinet doors
Clean, prime, and paint frames
Paint edges of cabinet doors
Reattach doors
That's it! Sounds easy, right? Well, that would be a pretty short blog post, so here's how to do it in full detail. (Be sure to read all the tips at the end!)
Clean Cabinet Doors
All you need for this step is a good degreaser, such as Krud Kutter, and a clean rag. If you can't find Krud Kutter in your cleaning aisle, look at the hardware store. It's a heavy duty, but non-toxic cleaner that will remove any grease buildup that can get in the way of your paint.
Simply spray on and wipe off with a very slightly damp clean rag or paper towel. Tougher spots may need a little elbow grease. Be sure to clean every paintable surface well so your paint will stick.
Prime Cabinet Doors – if needed
Not all cabinets will need to be primed before painting, if you're using DecoArt's Satin Enamels. Satin Enamels are formulated to adhere well to wood, and I've seen this to be true in multiple cabinet and furniture painting projects.
If your wood is old, has stains or dark knots, or seems dried out (like here in the NM Desert), it can be a good idea to prime first. Primer helps with adhesion and stain blocking, so it helps your paint stick better, look better, and go farther.
This Zinsser BIN Advanced Primer is what I recommend for painting over wood, whether it's cabinets, molding, or doors. It does the best job of stain-blocking out of any primer I've ever used.
Plus it dries in 45 minutes, so you can get on with your project quickly!
Full disclosure – when I painted these cabinets, I used DecoArt's Stainblocker, but it's not available for purchase anymore. I've use the BIN primer in several other wood projects and I know it will do the same job.
Paint Cabinet Door Fronts
I can hear you now, asking "Meredith, didn't you forget a step? Who would paint their doors while they're still hanging?" Well, I would. And you should too. It saves TONS of space, not to mention time spent moving doors around onto work surfaces.
Now, if you were using traditional latex or oil paint, I would not recommend painting vertically, due to the risk of drips. But this Satin Enamel paint holds it shape better while it's wet, which means it goes on smooth, and has the perfect drying time.
Drying time sounds like a weird thing to rave about, but it really makes all the difference in this type of project.
You need a paint that dries slowly enough that it has time to even itself out and get rid of brush strokes (we call this self-leveling), but not so slowly that it runs and drips and can't be touched for days.
Seriously, I can't say enough about how important this one property is to making this project so easy. Of course, you need to be careful to apply the paint evenly, and look out for all those corners where paint can build up and lead to drips.
The other great thing about this paint is you can re-coat as soon as it's dry, so conceivably you could do all your coats (2 to 3) in one day, if you were so motivated. I was not.
It took me a few days, but at least I didn't have to worry about my kitchen being torn up in the meantime.
One last tip about painting doors… If your doors have inlays, like mine did, paint those first with a brush before painting the large flat areas with a mohair roller or large brush.
This will allow you to be careful in all the nooks and crannies, and still achieve a good clean paint job without having to stop in the middle and do the detail work.
Removing Cabinet Doors
The absolute first thing you must do before removing your cabinet doors is LABEL them. Trust me, this is the one tip you should not skip over.
I know you think you'll remember where everything goes, but you will not. You will, however, thank me later if you label your doors clearly. I use the raffle ticket method shown below.
Now you're ready to remove the doors. For this part, you may want to find a helper. That is, unless you're unnaturally adept at holding a solid wood slab in one hand and operating a power drill in the other, all while balancing on one knee on the countertop, with the other foot straddling a sink full of dirty dishes.
As it turns out, I was not particularly gifted at this skill. Unfortunately for my knee and my dishes. Hence, no photos of this part of the process.
Simply unscrew the hinges and stack the doors along the wall or in your garage. If you're re-using your hinges, label them to go with the doors and save them for later.
I didn't want to re-use my old dingy brass hinges. I also didn't want to call attention to them, so I went hunting for something that would disappear into the white background of the cabinets. Did you know you can buy white hinges?
That's just what I needed, and I found them online at D. Lawless Hardware. If you haven't checked out D. Lawless yet, you should. They have a great selection, at great prices, and are just the nicest folks to work with. You'll see more of their hardware in a minute.
Clean, Prime, and Paint Frames
Once your doors are out of the way, you'll repeat the same cleaning, priming, and painting process as above, just on the frames this time. It sounds like a big job, but it really isn't.
The frames don't take up much space, so they won't take you long to finish. Just make sure you tape off any edges first, to make your life easier.
Paint Edges of Cabinet Doors
While you're working on your frames and waiting through drying times, you can paint around the edges of your cabinet doors.
You want to make sure the paint is good and dry on both the frame and the doors so they don't stick to each other once you attach the doors again, so leave plenty of time for this step.
This is also the time that you'll want to pull out your drawers and paint their edges too.
At this point, you remember why you can't have open shelving in your kitchen.
Reattach Doors
Once everything is finished and it's all good and dry, then you can rehang your doors and replace the drawers. (Sounds easy but involves more contortionist moves in mid-air, so enlist a partner if you can!)
Finally, add some fabulous hardware knobs and pulls, and you've got a brand new kitchen.
You're done! That wasn't so bad, now was it? You didn't have to remove a single dish from your cabinets, and everything got to stay in its place so you could use your kitchen as you worked little by little on it.
You didn't even have to spend a whole Saturday cleaning sawdust out of your cabinets before replacing your mixing bowls.
The family wasn't mad at their mom-induced chaos. Even your husband was impressed that all this magically happened in between meals. OK, well maybe that's stretching it a little, but you get the idea.
Resources
Note: these are affiliate links, which means if you make a purchase, I'll make a small commission at no extra charge to you.
Cabinet Painting Tips
This process absolutely works best with DecoArt Satin Enamel paint. (You can find it on their website, Amazon, or just about any craft/hobby store. I like Hobby Lobby because they always have a 40% off coupon.)
The paint's consistency and drying time allows you to work on the doors in place, and there is no sanding required. I do not recommend this method if you want to use regular latex or oil-based paint. See my earlier post if you want to do that.
Color
Don't fret if you can't find the color you want in the Satin Enamel paint. You can mix whatever color you like from the available colors in their line.
For my cabinets I used Bright White, mixed with Natural Sable. (The formula was 10 jars white, and 4 tablespoons sable.)
I wanted a soft warm white that wasn't too pure. Adding a little brown gave me exactly what I was going for.
Be sure to mix enough paint for your WHOLE project. You do not want to be trying to match colors when you run out of paint halfway through!
Brush Strokes
If you use a mohair roller, you shouldn't get any paint bubbles or roller texture. But if you do, simply drag a soft dry brush over the rolled area as soon as you're done with a section.
Move in the direction of the wood grain as you go, and any brush strokes will be almost invisible.
Hinges
If you're buying new hinges, make sure you measure your old ones accurately and check that the new hinges are exactly the same size and shape.
Small differences can add up to make a big problem in the end. If your house is older, you probably have the non-adjustable hinges that go right on top of the frames.
Fortunately it's pretty easy to replace these in a variety of colors. For my kitchen I didn't want the hinges to be visible, but I also didn't want to retool everything to add hidden hinges.
The solution was white hinges. They're not totally hidden, but they also don't call attention to themselves.
What About Laminate Cabinets?
And finally, does this work on laminate cabinets? Yes, with one little modification. If that's you, be sure to check out my newly updated post on how to paint laminate cabinets.
Now it's your turn… what's stopping you? And as always, let me know if you have any questions. I love to help! Well, I'm not actually going to come over and help you paint, but I'm happy to virtually help! In the meantime, here are the "After" photos for inspiration. Feel free to pin and share!
Update: I've had so many wonderful questions about this process and the Decoart and D. Lawless products, that I've written a follow-up post. Before you get started, be sure to check out the Frequently Asked Questions and How They're Holding Up post for all the details. And finally, I've also written a post on what not to do when painting cabinets about the most common mistakes and how to avoid them. Hopefully that one will save you some trouble along the way!
And finally, as if this wasn't enough information to digest, I've written a comprehensive cabinet painting ebook that answers most of the questions you'll find below and in the other FAQs post.
The biggest question is how to get the DecoArt products, which is becoming more of a problem lately. I answer that and what products I'm recommending instead in the book. If you're having trouble sourcing the right kind of paint for your cabinets, give it a read!